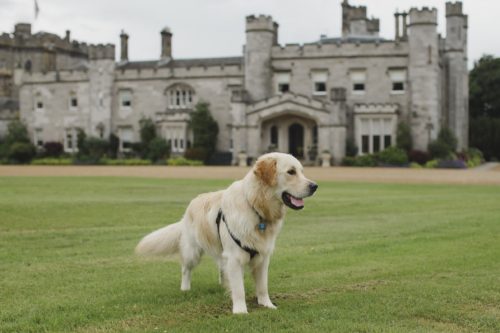 VisitScotland's Ambassadog George was welcomed by golden retrievers Burn, Beech and Bark the resident dogs at Dundas Castle and who were happy to show George how to welcome the tourists.
George is now setting off on his new role as the official canine ambassador representing the spirit of Scotland.
As a five star venue which welcomes guests from across the globe for weddings and corporate events, Dundas Castle puts the warmth of its welcome at the top of the agenda. The Castle is the family home of Sir Jack and Lady Stewart-Clark and their three dogs, who enjoy welcoming guests to the Castle in their enthusiastic way and is all part of the charm of the venue. Following the recent launch of a Downton inspired experience which received interest from around the world, the dogs took a starring role in an ABC News livestream broadcast to the US, showing how to live the Castle lifestyle.
This was one of the Ambassadog's first official engagements since being appointed, as he encourages visitors to get out and explore Scotland's castles this summer. There is great choice with over 3,000 castles in Scotland, nearly one for every square mile, and many of which are dog friendly. Visitors can check the VisitScotland website for more information.
Sir Jack Stewart-Clark commented: "Many people come to Scotland for the warmth of our welcome and when guests come to stay in my home, they enjoy the enthusiasm of our golden retrievers, Burn, Beech and Bark. We pretend that they are stalwart guard dogs but the truth is they are as soft as any retrievers can be and love everybody especially children! We were delighted to welcome George to Dundas and have the opportunity to give him a few pointers on taking on this essential tourism role."
Dundas Castle is an 18th century home featuring turrets, impressive staircases, sumptuous bedrooms and roaring fires. Popular for weddings and corporate getaways, as well as family parties and group events, the Castle features its own 600 year old Keep, a private squash court and the spreading lawns and woods of the Estate.
George is a one year old Golden Retriever from Glasgow and was nominated for the role by his owners, twin sisters Emma and Victoria Rae. Chosen from two hundred applicants for the role of Ambassadog, George currently has 14.8k followers on his Instagram page @golden_george_