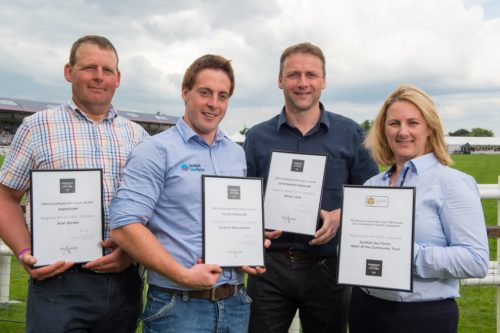 Farmers from across Scotland have been announced as this year's winners of the prestigious M&S 'Farming for the Future' awards, which took place at the Royal Highland Show in Edinburgh on Thursday, June 23rd.
The 2016 winners are:
Alan Steven – St Andrews – vegetables for M&S including Brussels sprouts and parsnips – Innovation Award
Steven Jack – Inverness – potatoes and rainbow carrots for M&S – Outstanding Producer Award
Andrew MacLeannan – Oban – Lochmuir Salmon for M&S – Young Producer Award
In addition, Young Producer Award winner Andrew MacLeannan is part of the Scottish Sea Farms team, which has also been awarded the Rural Communities Award for its Heart of the Community Trust (HCT). HCT was set up in 2011 to help support local charitable and community initiatives. To date the Trust has distributed over £500,000 to a variety of different causes and has benefited around 27,000 people living in largely rural, coastal communities.
Winners impressed the judges with their commitment to the future of farming, from investment and welfare, to engagement with the community and retailers, and enterprising sustainable practices.
M&S Farming for the Future is a programme of initiatives which champions sustainability and innovation. The programme is designed to help farmers identify opportunities for improvement, increase their profitability and provide a sustainable supply chain that can continue to deliver quality and innovation for the long term.
The awards celebrate suppliers working towards important commitments including becoming carbon neutral, sending no waste to landfill, extending sustainable sourcing, setting new standards in ethical trading, and helping customers and employees live a healthier lifestyle.
Steve Mclean, M&S Head of Agriculture & Fisheries, said: "We are delighted to honour the winners at The Royal Highland Show this year. Every year it becomes even harder to choose winners, as each individual on our shortlist has gone the extra mile to set them apart from the competition.
"I'd like to take this opportunity to congratulate Alan, Steven and Andrew, as well as Scottish Sea Farms, for their forward thinking approach and dedication to farming excellence. The commitment to innovation, best practice and future-proof farming is incredibly impressive and is testament to the effort and drive they have all shown."