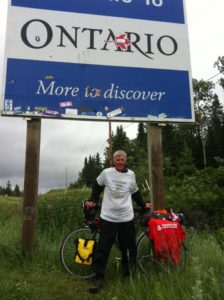 Edinburgh cyclist Andrew Dickson has completed two fifth of his 5000 Canadian adventure.
The former Lothian and Borders Police officer is cycling, unsupported across Canada to raise money for the Craig Gowans Memorial Fund, FACE (Fighting Against Cancer Edinburgh) and the Friends of the Sick Kids Foundation.
To donate to these worthy causes click here.
This is Andrew's story in his own words:
"I called in at the Royal Saskatchewan Museum 'T.Rex' Discovery Centre in Eastend. This has the world's biggest TRex fossilised remains yet discovered. One evening a few days after the scientists realised what they had found, it was felt the specimen should have a name but there was initially no agreement. However as they were celebrating with a bottle of Scotch they all agreed on 'Scotty'. It's the truth. The specimen is female and this is the 25 anniversary of the find which occurred about 20 miles from the Centre.
"Yet Another glorious day but in the evening a very active lightning storm could be viewed just to the south.Camped at Cadillac where met a lad Ben Gardiner with Scottish connections. Ben has just inherited his father's motorcycle and is taking his ashes on a final biking trip across Canada before the scattering somewhere in British Columbia. How nice is that?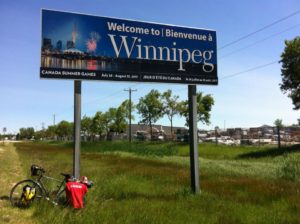 "Called into the library at Kincaid and while there was invited to have lunch at the home of Rose and Don Ross. Arrived at their place just before noon and left at 3.30 having been plied with food and coffee. "Thank you for being so kind and hospitable. It will be a pleasure to follow your instructions concerning the gift. Please take care".
"Was sitting having evening meal in Lafleche when a lightning storm, with accompanying thunder and rain decided to show face. Lasted about 3 hours and luckily I was in a little wooden shelter so was able to view the spectacle
"Called in at the Southern Prairie Railway Preservation Museum (www.southernprairierailway.com) in Ogema. While there a group of dedicated supports and volunteers arrived to give part of the old wooden station some TLC and I was invited to help. Couldn't turn down that offer.
"Most of Friday was spent on Hwy 13 but at Carlyle decided on a detour north on Hwy 9. Camped beside White Bear Lake and spent a while watching a group of adult geese being very attentive and protective of their young and I couldn't get anywhere near them.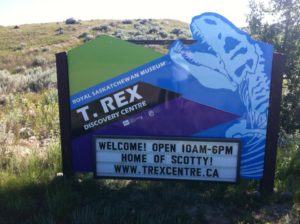 "If that's The original Kelso I've taken a wrong turn again!!!!! Still, if I am in the Scottish Borders I can always cycle the few miles and stay at the Friends of Nature and SYHA affiliated Kirk Yetholm Hostel and receive the customary warm welcome from owners Simon, Maureen and 4 legged Barney.
"Arrived in Winnipeg on Tuesday to stay with Sharon & Eric (originally from Linlithgow) for a few days.
"Toured the lovely 'Downtown' area on Wednesday and saw a few Scottish connections with Winnipeg & Manitoba, including the Selkirk Settlers 1813 monument. By chance the Scottish Diaspora Tapestry is on temporary display in the Manitoba Legislative Building before being returned to Scotland.
"Spent Thursday cycling round Winnipeg before calling in on a social evening with Sharon, Eric, Scott, Megs, Kevin, Mary Agnes and Lloyd. To Llody, "Thanks for your generous donation to the children's charities involved with my trip. It is really appreciated by all".
"Left Winnipeg on Friday morning. To Sharon & Eric, "Thank you so much for your kindness, hospitality and generosity. I'm very grateful. I know your donation will be put to good use by the charities involved. Please take care".
"Followed Highways 15, 11 & 44 to Rennie in lovely weather and camped by the Rennie River just on the edge of town. The most dynamic lightning storm I've encountered this trip arrived early evening and it didn't stop raining until 6am. I was lying in 2″ of water but luckily the tent's groundsheet wall is 3″ high. Close to 5″ of rain fell in Rennie but another local community received 9. The river went from a small stream to a torrent.
"Visited the Trappers Museum and Alfred Hole 'Goose Sanctuary' nearby before heading out again on Hwy 44 but didn't get far due to flooding. Because of the flooded Hwy 44, on Sunday I had to backtrack 25 miles to Elma before going south on Hwy 11 and east on the Trans Canada Highway.
"Left Manitoba and entered Ontario meaning the same road changed from Hwy 1 to Hwy 17
"Just east of the border I reached the 2000 mile point of my cycle. Just 3000(ish) to go."