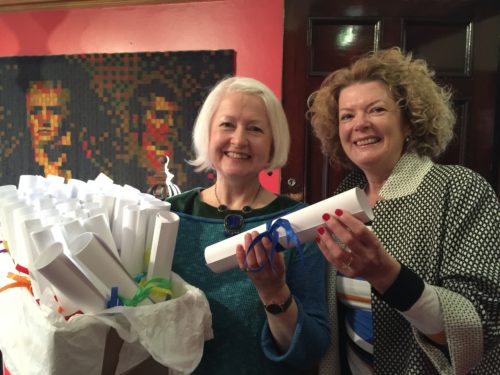 A new online anthology of poems celebrating some of Edinburgh's behind-the-scenes heroes was launched at the City of Edinburgh Council's Writers' Museum on Monday afternoon.
Spearheaded by Edinburgh Makar Christine De Luca, the Edinburgh Unsung project brings together 26 poems by 23 poets, paying tribute to those whose work largely goes unnoticed but without whom this Festival city would be less safe, less clean, less efficient, less pleasant to study or work in, less vibrant and much less interesting to visit.
Councillor Norma Austin Hart the Vice-Convener of Culture and Sport joined the Makar and an audience made up of some of the poets to hear the poetry (which you can read below).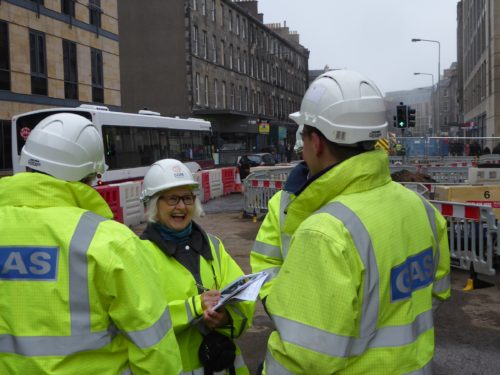 From environmental wardens and school crossing guides to sett-replacers and the people who dust down the books at the National Library of Scotland, the poems shine a spotlight on 23 different services whose work helps keep Edinburgh thriving.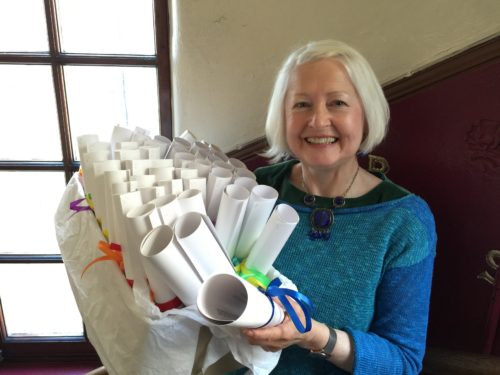 Councillor Austin Hart, Vice Convener of Culture and Sport for the City of Edinburgh Council, formally launched the Edinburgh Unsung anthology at the Writers' Museum.
She said: "There are thousands and thousands of people working hard every day to keep our much-loved Capital running smoothly, most of them doing so without very much in the way of public recognition or thanks. This excellent new anthology of poems is intended to do something about that, shining a light on Edinburgh's unsung heroes and immortalising their work.
"It's an honour to be launching the collection at our Writers' Museum and I'm sure readers from far and wide will discover a new respect and gratitude for everyone the poems celebrate. Huge thanks to Christine De Luca and all her fellow poets for their hard work in bringing Edinburgh Unsung into being."
Christine De Luca, Edinburgh Makar, said: "I've very much enjoyed working with some of Edinburgh's many fine poets and am grateful for their generosity. There's a long list – Claire Askew, Martin Bates, Kevin Cadwallender, Ken Cockburn, Anne Connelly, Jenni Daiches, Vicki Feaver, Bashabi Fraser, Miriam Gamble, Valerie Gillies, Lesley Glaister, Dorothy Lawrenson, Martin MacIntyre, Ian McDonough, Jane McKie, Richard Medrington, Elspeth Murray, Nancy Somerville, J L Williams, Hamish Whyte and Peter Mackay… the list is still growing!
"As Makar I'm called upon to write occasional poems which celebrate high points for our city or the achievements of its citizens.  It seemed to me that some poems recognising the worth of the everyday, unseen work we tend to take for granted was something I should tackle. I knew I couldn't do it on my own so it offered an ideal opportunity to engage with other local poets. We have all tackled topics we might not otherwise have written about and for me it has been an eye-opener, a learning experience. And I've met some very interesting, skilled, patient and generous people along the way."
Edinburgh Unsung can be accessed online at www.edinburghmakar.org.uk.

Edinburgh Environmental Warden

Here we go. Man's best friend
has been crapping on the pavement,
but it's the owner I'm aiming for.
Have they ever had a toddler
walk through that stuff in new shoes?

The café with its tapas and designer beers
is dumping waste oil and refuse
into over-spilling bins.
What do they think will happen to it?
Will the rubbish fairy come and suck it up?

Here's a guy in a suit and tie, tossing
a chocolate wrapper over his shoulder
as though he's throwing away his troubles.
Only now, pal, it has become
someone else's trouble – like maybe mine.

Just as well most people act like citizens,
play a decent game,
or pretty soon we'd be Auld Reekie
once again.

by Ian McDonough

Lollypop Liz
at St Margaret's Primary School, South Queensferry

Stop all the cars, cut off the four by fours,
prevent the flow of vans, the bus to town,
silence the engine's throb and the tyre's roar,
help the hirpling old and the darting young.

Lollypop Liz directs the tide to halt,
her jacket yellow and her standard high.
Lollypop Liz unarmoured and unarmed,
a beacon in an echoing sea that calls and cries.

A surge of superhero schoolbags, scooters,
bikes and woolly hats and wild games.
Steering wheels drummed by pale, impatient fingers
as Lollypop Liz dams the relentless stream.

She's steadfast, kind, careful, watchful, bold.
She slows the rush, muffles the daily grind.
Parents, children, drivers, young and old,
every one of us obeying her command.

But now the traffic's hectic pulse returns,
the playground empties and is strangely calm.
Lollypop Liz shrugs off her beacon coat.
Job done. Safe home. Safe home.

by Jenni Daiches

The Wizard of Morrison Street
SGN – gas network company

Poised over a join in a huge gas pipe, the Wizard
of Morrison Street is hunched.  He's grinning
all those years away – still loves his work,
the abundant repartee.   He's customised his PPE;
wears a bespoke balaclava under a hard hat.
In the haar, gloves keep his own joints supple.

There's something of the surgeon in that deftness;
something of the archaeologist in the way he moves,
in his dedication, his focus.  It's critical work with
a saw, a trowel and you're in that 3D world below
the street: pipes everywhere; gas – yes, and
water, drains, telephone, cable, power.

The iron pipes, joints wound with leaded jute,
have heard the footfall of generations.  Now, with
a risk score, they'll be replaced.   Everyone must
be consulted, updated with progress, emails.
The logistical planning is mind-boggling but
they work as a team, take pride in their pursuit.

Safety is their mantra.  From Fauldhouse to Dunbar
and south to the Borders, our lives are in their hands:
4000 km of pipes, gas streaming more efficiently.
If there's a problem, then a bypass is on the cards,
a crafty fix till crucial tasks can be performed:
dexterity, precision to keep the life-blood flowing.

And it's people they serve.  Replacing a street main,
a 'diviner', with his CAT4, detects where to excavate;
tells too of the old lady he met who'd fallen at home
and how they pop along just to cheer her up!  Maybe
in future, as keyhole skills take over, they'll finish quicker.
She'll be looking for a friendly chat, but they'll be gone.

That Core & Vac truck can drill and lift the solid tar,
suck out the spoil and, with long-handled tools, the joint
is mended.  Blink and the surgery's done: the spoil replaced,
the plug re-sealed.  But shame if we lost all the play value:
those loops of latent hula-hoops, bright primary colours,
like Playmobil, those neat barriers hurdling down our streets.

(PPE –Personal Protection Equipment)

by Christine De Luca