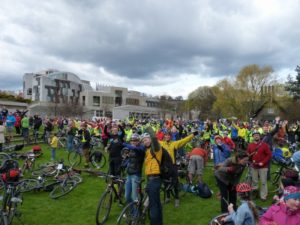 Over 5,000 cyclists descended on the Scottish Parliament on Saturday afternoon to call for cycling to be given a bigger place in the nation's transport plans.
On bikes of every size and shape, they cycled from the Meadows, down the Royal Mile to the parliament, ringing their bells as they went.
The transport minister Derek Mackay told the crowd that the SNP had spent a record amount on cycling facilities and he promised to "match that, year on year" if the party is returned to government at the election on May 5th.
But Alison Johnstone, from the Green Party, raised the biggest cheer of the afternoon when she told Mr Mackay: "It's not enough. Only one per cent of the transport budget is spent on cycling. We want to see that increased to 10 per cent.
"Around a third of councils are not spending anything significant on cycling and the government should be giving more of a lead."
Labour's Sarah Boyack said she supported the long-term aim of spending 10 per cent of the transport budget on cycling but it couldn't happen overnight.
The Labour leader Kezia Dugdale strode among the crowd wheeling her bicycle. The Liberal Democrat leader Willie Rennie had cycled over from Fife with his local cycling club. His party he said would devote an extra £20m a year to cycling. The Conservative's Myles Briggs said he too supported more facilities for cycling and he wanted to see a "Boris bike" initiative in Edinburgh.
It's the fifth year that the "Pedal on Parliament" demonstration has been held and organisers said it's been the biggest so far.