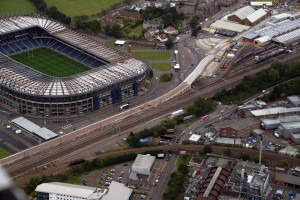 British Transport Police (BTP) are urging both rugby and football supporters to plan ahead for their chosen sporting fixture this weekend – as trains are expected to be extremely busy.
Alcohol will be prohibited on many services to ensure everyone can travel without encountering alcohol-fuelled anti-social behaviour.
Scotland and France meet in the Six Nations Championship while Hibs and Ross County compete for the first football silverware of the season when the League Cup Final takes place at Hampden Park.
With both matches kicking off at 3.00pm – in Edinburgh and Glasgow – and supporters travelling from all over the country, BTP has been working closely with ScotRail and Network Rail and will instigate a well-planned operation which sees additional officers at key stations and on trains.
Chief Inspector David Gray, who is co-ordinating the BTP operation, said:
"Sunday is going to be a huge sporting spectacle and our priority is to get everyone to the Six Nations match at Murrayfield and the League Cup Final and Hampden safely and in time for kick-off.
"As well as planning ahead supporters are being urged to behave responsibly and respect other passengers and rail staff who might not be going to one of the matches.
"Alcohol restrictions are in place for a very good reason. We want everyone to enjoy the experience but please don't spoil someone else's day, or your own, and miss the match because you've over indulged."
Train operator ScotRail and Network Rail will implement queuing systems at stations Edinburgh Waverley and Haymarket, Glasgow Central and Queen Street and Mount Florida. Supporters are particularly advised to follow the directions of ScotRail staff after the match and be aware that there will be only entrance from Mount Florida station – from Bolton Drive.
A spokeswoman for ScotRail said:"If you're planning on heading to either Murrayfield or Hampden this weekend, we recommend that you make your travel plans in advance as this will allow you to make the most of your day.
"Services to and from the events will be very busy, so please consider buying your tickets in advance as this will reduce your queuing time in the station."