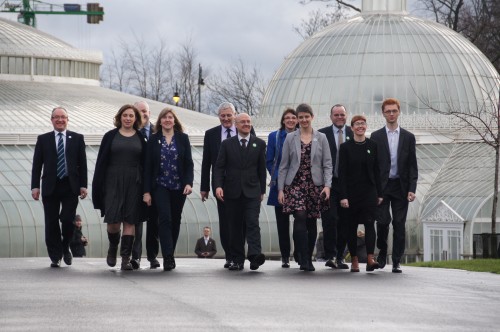 Against a very green backdrop in Òran Mór in Glasgow Scottish Greens Co-Convener, Patrick Harvie MSP set out a clear message to begin the party's Scottish Parliamentary 2016 campaign.
This is the first of the political parties to launch their election campaign, so they had a clear field, but their message boils down to one point – that 'Scotland can'.
Their membership has soared to 9,000, and with these new members behind them the Scottish Greens believe they can return a Green MSP in every region in Scotland. This campaign will be their biggest yet and has 6 key areas where Scottish Greens put forward optimism for Scotland:
204,000 jobs
good homes for all
unlocking of power in communities
ban on fracking
caring for all
guarantee of a future for young people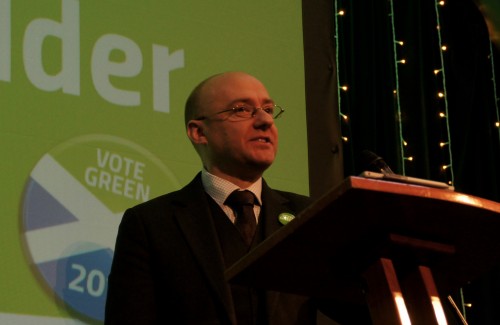 Patrick Harvie said: "We believe that Scotland can be a better country for everyone who lives here and for a better Scotland we need a bolder Scotland."
The Edinburgh Reporter News from Phyllis Stephen on Vimeo.
Alison Johnstone MSP is standing in the City Centre constituency as well as a Lothians list candidate, and new kid on the block Andy Wightman is standing in Lothians. Johnstone told The Edinburgh Reporter: "For the very first time I will be contesting Edinburgh Central constituency and Patrick is standing in Glasgow Kelvin. We are beginning to make some progress in that way. I think we could achieve more if we had a larger group of Green MSPs at Holyrood."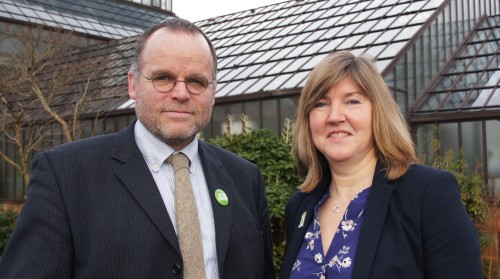 Wightman told us :"I think the Scottish Green Party will put forward a manifesto of real change, and of quite radical change and which will particularly make Holyrood a much bolder parliament.
The party were keen to show off candidates from all areas of Scotland this morning and went for a walk in the Botanic Gardens to please the photographers!