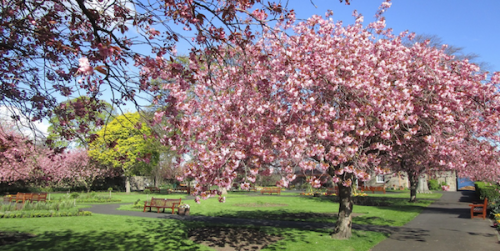 A very local crowdfunding effort has begun to raise funds for a children's nature trail, and it is already halfway to its target.
The Friends of Starbank Park plan to create a Hans Christian Anderson inspired trail featuring statues of some of his most well-loved characters, including the Little Mermaid, the Ugly Duckling, Thumbelina and the Snow Queen. Each story will have its own area beside the path, with log seats for children and insect friendly flowers and bushes.
The educational trail was inspired not only by the tales of Hans Christian Anderson but also by his connection to the area. He may well have walked within the park as he was known to have lodged nearby at 73 East Trinity Road in 1847.
Alastair Roberstson, Friends of Starbank Park Chair said: "The children's nature trail will be a great way for them to learn while they're having fun in the park and discovering the wonderfully imaginative tales of Hans Christian Anderson."
The group has already raised more than half of their £5,200 target and are now calling out for your help with donations to the crowdfund to take the amount raised up to the 100% mark.
Ian Goodman, Project Manager said: "The Children's Trail is an inspired project which will benefit children and visitors for Edinburgh and beyond.  This is why MyParkScotland is here – to help local park projects developed by Friends of Parks and other groups reach out to the wider public to raise funds through safe and easy online donations. Your donation, no matter how large or small will help bring this project to life."
To donate to the project visit http://www.mypark.scot/projects/childrens-nature-trail
The Childrens Nature Trail is just one of a number of park projects in Edinburgh currently seeking funding through the MyParkScotand site, others include: