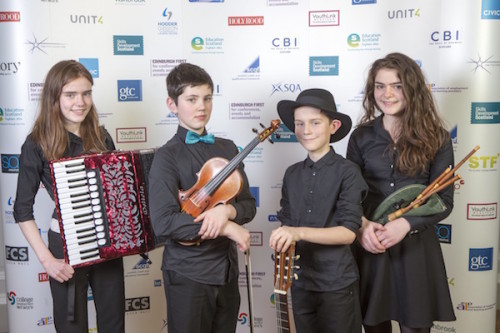 Pupils from St Mary's Music School entertained guests at the SQA Star Awards, held last week at the Assembly Rooms in Edinburgh.
The School's Scottish Traditional Group: (from left to right) Ciorstaidh Sarah Chaimbeul (Accordion), Lachlan Kennedy (Violin), Eosaph Caimbeul (Guitar and Drums) and Brighde Chaimbeul (Pipes) played for guests and then Brighde piped the guests into dinner.
Jenna Doherty, SQA Events Co-ordinator, said: "The group were fantastic and all the guests, especially the foreign ones, loved Brighde playing the bagpipes."
Ciorstaidh Sarah, Brighde and Eosaph Caimbeul are siblings and come from Kyle of Lochalsh and are boarders at St Mary's Music School while Lachlan is a day pupil who commutes from Glasgow.
Dr Ken Taylor, Headteacher at St Mary's Music School, said:
"St Mary's Music School offers a world class standard of music and academic education to musically gifted children aged 9-19 years. We are very proud of our pupils who come from many different backgrounds and from all parts of Scotland as well as elsewhere in the UK and abroad. Our Traditional Group is a fine example of the School's talented young musicians."