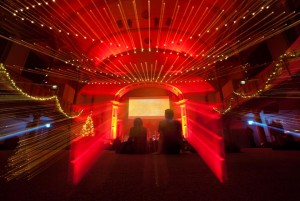 Central Hall had a surreal vibe when the Neu! Reekie! gig took place there last week.
An avant-garde, experimental evening of spoken word, poetry, readings and music, this is a nuance to Edinburgh's cultural scene which has significantly shifted since it was founded five years ago.
Packed to the rafters with music and literary aficionados as well as their usual cult following, we were immediately entertained by Tam Dean Burn's reading of Little Junky Rabbit's Christmas. Accompanied by a trippingly dark screening, and discordant guitar, along with Tam's festive attire and shades, we were immediately transported back to decades previous, should the beatniks of the sixties and seventies been so proficiently technologically adept.
Liz Lochhead, aware of her crowd, commenced her set with In Praise of Old Vinyl, which aptly received a fantastic response, suitably summing up the crowd at this diverse, literary event. This was swiftly followed by performances from successful indie-folk Scottish-based musicians, Stina from Honeyblood, Withered Hand's Dan Wilson and Hailey Beavis, as well as the wonderfully passionate Emma Pollock and RM Hubbert. Dark humour, luscious Italian flawless vocals, multi-coloured tights, Santa hats and acoustic guitars took to the stage, providing a wonderful transition from Lochhead to WHITE. Reminding us of the magical collaborative Fairytale of New York, Pollok and Hubbert's efforts were awed, rekindling memories of albums such as the Ballad of the Book. It was time, however to hush the murmur of the audience with a face-slapping tale from one of Edinburgh's most renowned tale-tellers.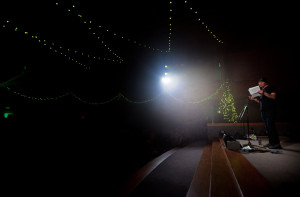 Irvine Welsh came to the stage reading a new Frank Begbie episode in Leith post-Trainspotting and a spell in the art world. Wearing black jeans, black beanie and black t-shirt, there is a monotonous, droll sound to Welsh's voice, evocative of the misogynistic, erroneous character, which seems to please the crowd. As expected, the entertainment was revved up a few notches, with WHITE's frantic drumming and guitar-sound pleasing the Franz Ferdinand lovers amongst the crowd, before Hektor Bizerk took to the stage.
Vibrating, thrusting their hip hop into the crowd, the Glasgow act perfected the end to this vibrant programme of performance, retaining a liveliness that saw most onto a bus to the after party. It's exciting to think what Neu! Reekie! organisers, Kevin Williamson and Michael Pederson have in store for 2016, as the night evidently shoes that they don't scope out boundaries; they wish to knock them over.