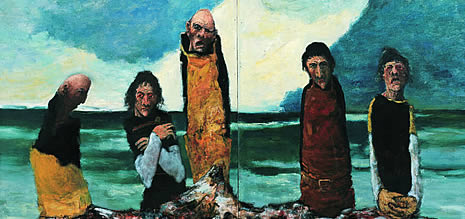 Some of the final works by renowned Scottish artist John Bellany will go on public display for the first time.
The Scottish Parliament is to host an exhibition exploring the role of the Scottish Women's Hospitals.
John Bellany and the Scottish Women's Hospitals will feature several previously unseen pieces of Bellany's work in an exhibition that looks at the impact of the hospitals and their role across Europe in the First World War.
The artworks were inspired by the work of Dr Elsie Inglis and more than 1,500 women who served in the Scottish Women's Hospitals which were active in countries including France, Serbia and Russia. The paintings and drawings explore the subject of war, field hospitals, nursing and the experiences of the injured soldiers.
The exhibition will also feature a specially commissioned poem by Scotland's Makar, Liz Lochhead, who was inspired by Bellany's works. Archive photographs, film and objects on loan from public and private collections tell the wider story of the hospitals.
The Scottish Parliament's Presiding Officer, The Rt Hon Tricia Marwick MSP said:
"The work of the Scottish Women's Hospitals is truly inspirational. These women were true pioneers and broke down barriers in order to undertake life-saving work during the First World War.
"I am pleased that the work of these women will be recognised at the Scottish Parliament. The iconic work of John Bellany, one of Scotland's most loved artists, will be instrumental in bringing the subject to life and will ensure that this part of our history gets the recognition it deserves."
The exhibition is undertaken in partnership with the family of the late John Bellany who are loaning the works to the Parliament.
Helen Bellany said:
"John was moved to produce a body of work in celebration of those remarkable women. An echo of what he knew a whole generation of doomed young men would have felt for the care and comfort they had been given by those nurses at the lowest point of their lives.
"Even then, they had been given hope and they had been given the understanding that they mattered."
The free exhibition will take place in the Scottish Parliament's Main Hall and will run from Wednesday 20 January – Saturday 16 April 2016 (excluding 15 – 20 February).