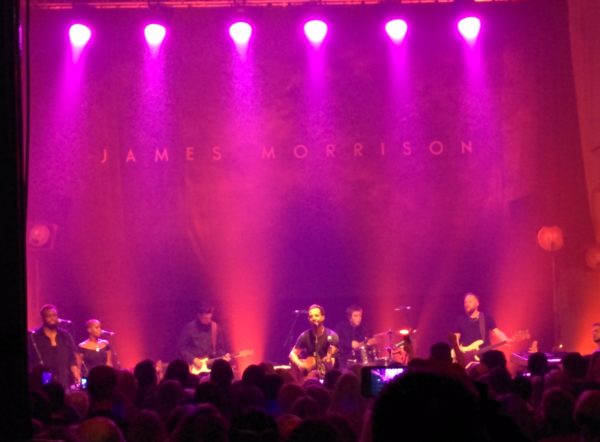 James Morrison was until recently a forgotten pop star who had three platinum albums nearly four years ago.
The singer-songwriter has just returned with a new album, Higher Than Here, and times have changed.
He's a father who says he has spent the last few years "mowing the lawn" and now has to compete with new pop stars who were not around when he was in his prime.
Stars like Sam Smith and James Bay have all shot to stardom in the interim, so it is little wonder that his new album slipped under the radar.
Apart from a few low-key London dates, the show at The Queen's Hall was officially the first of the tour, and Morrison was more than overjoyed to be back on stage.
He high-fived audience members and jumped about the stage with an acoustic guitar held up so high that he could have been Chris Martin.
A full backing band and three singers to accompany Morrison through his gravelly soulful vocals were on the stage. The full band may appear unrequited, but they certainly made the sound a bit more forceful than the studio versions.
If you thought you the old songs a bit dreary, then my view on the new ones is that they are on an even higher pedestal of vapidity.
I found little interesting about them except that like every other James Morrison track it is his voice that makes the song more appealing.
The choruses for the songs on the new album lack their normal potency. I felt that the audience were scarcely enamoured with numbers from the new album, and instead missed the old hits like 'Please Don't Stop The Rain', 'Better Man' and 'You Make It Real'.
All the hits which Morrison penned in the last decade may now be ancient pop history, but his fans have stuck with him because of them. At the Queen's Hall recently they patiently endured a set which chiefly included tracks from Higher Than Here which may not have pleased them too much.