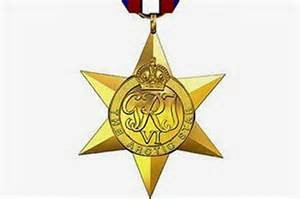 Hibernian FC legend Eddie Turnbull has been posthumously awarded the Arctic Star military campaign medal in recognition of his part in the four-year struggle to provide material to support the Soviet war effort which cost the lives of around 3,000 sailors and merchant seamen during WWII.
The decision to award the belated medal was made after a long-running campaign by survivors, and was  granted for operational service of any length north of the Arctic Circle (66 degrees, 32'N) from September 3 1939 to May 8 1945, inclusive.
Eddie joined the Royal Navy as a teenager and was assigned to the destroyer HMS Bulldog as a torpedo loader.
The ship, which had previously played a vital role in capturing U110 and its Enigma Code machine was deployed to the Arctic convoys.
At the time Norway was filled with occupying German Forces and the convoys were attacked on a regular basis by Luftwaffe dive bombers and U Boats. The crew also had to deal with mountainous seas and freezing conditions.
On several occasions HMS Bulldog came under attack and the sailors were aware that one direct hit would result in certain death. During that time Eddie lost several close shipmates and many of his former colleagues who had transferred to other ships were killed in action.
After leaving HMS Bulldog, Eddie was transferred to HMS Alnwick Castle where he served as an Able Seaman responsible for deploying depth charges then HMS Plover where he carried out dangerous work clearing mines until being demobbed in 1946.
Eddie's daughter Valerie who applied for the medal said: " I am delighted that all the sailors involved in the Arctic Convoys have finally been given the recognition they so richly deserved. Their courage and bravery played a vital part in the war effort. I just wish that more of them were alive to receive this honour personally. I know Dad would have loved that! I'm sure that all the families, who, like us, have received a posthumous medal, feel tremendous pride now. "
His list of honours  included three Scottish League Championships as a player, a Scottish Cup as manager of Aberdeen, a Scottish League Cup  and two Drybrough Cups as manager of Hibernian as well as being a member of the Scottish Football Hall of Fame, the Hibernian FC Hall of Fame and the Aberdeen FC Hall of Fame.