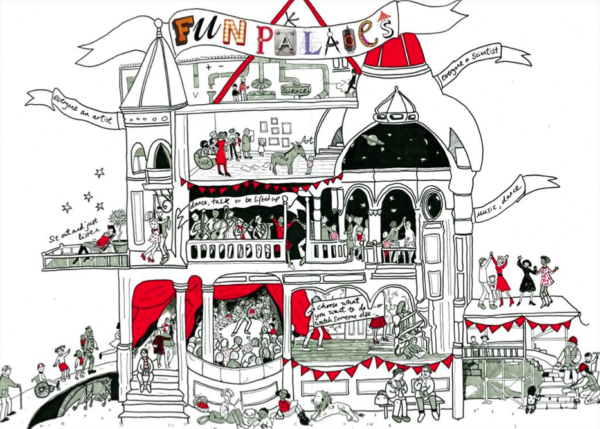 The Curiosity Forest is part of Fun Palaces 2015, a free, nationwide celebration of community, bringing people together with arts and sciences, and is due to take place in Edinburgh on the first weekend in October.
Based on a never-built idea from theatre director Joan Littlewood and architect Cedric Price, the first Fun Palaces took place in the UK and worldwide in October 2014, when 138 venues, locations, communities and groups created their own local events. Over 3000 people took part in organising these events, many of them as volunteers, and approximately 40,000 people attended Fun Palaces in person, while tens of thousands more engaged with them online.
Fun Palaces are about working with and from our own communities, creating events that bring together arts and sciences – but above all PEOPLE – to work together, create together, have FUN together, and in doing so, build our own communities, from the grassroots up.
Come and explore a purpose-built indoor woodland housing science and art activities for families. The Event will be held at Tech Cube at Summerhall on Saturday 3rd of October 2015. Entry to the event and all the activities are completely free. Make your own red or grey squirrel and see how their numbers are changing in Scotland, take part in musical storytelling with rainforest instruments, build an eco-pocket-puppet to take home as well as loads of other surprises.
#FUNPALACES #CuriosityForest
http://www.funpalaces.co.uk
@FunPalaces | @lisahannahthom
The Curiosity Forest – 11:30-5pm Saturday 03/10/2015
Tech Cube, 1 Summerhall place, Edinburgh EH9 1PL
Suitable for families
Sessions are drop-in, no booking required
Submitted by Lisa Thompson