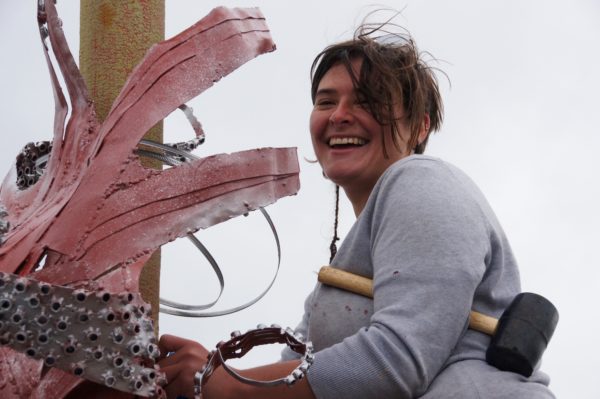 A new sculpture installed today in the sea just off Portobello is sure to attract some attention. The idea of the steel Tidal Octopus designed by artist Lauren Fox is that the octopus is visible only at low tide. At high tide there will only be a few tentacles showing!
This is part of Art Walk Porty which is an exciting new event showcasing Edinburgh's seaside and celebrating the public space and artistic activity of Portobello, and Edinburgh-based Lauren's 1.5m long octopus is one of many site specific artworks on display from 3 September.
We arrived just as Lauren and her team of helpers was putting the octopus in place:
The Edinburgh Reporter News from Phyllis Stephen on Vimeo.
Lauren said: "I'm thrilled to have been invited to take part in Portobello's first Art Walk event and I'm looking forward to seeing people's reactions to the octopus at different states of tide while it is on public display over the next couple of weeks."
She explained that she works predominantly in metal: "This is a project I have had in mind for a long time and I love the playful contrast that comes from creating fluid, gentle shapes from such tough, industrial materials.
"The steel will begin to rust and discolour each time the tide rises and falls, so every day the piece will look slightly different, while the tentacles that remain clear of the water remain a silver colour throughout the exhibition."
Lauren commented that she took some inspiration from the marine world: "As an enthusiastic SCUBA diver, freediver, wild swimmer and snorkeller, I am fascinated by what lies beneath the waves, and feel driven by the sense of adventure and possibilities that this magical underwater world offers. So for me, it's incredibly exciting to be able to explore the seaside on my doorstep through the eyes of local artists and visit many other artworks and open studios during Art Walk Porty 2015 this week."