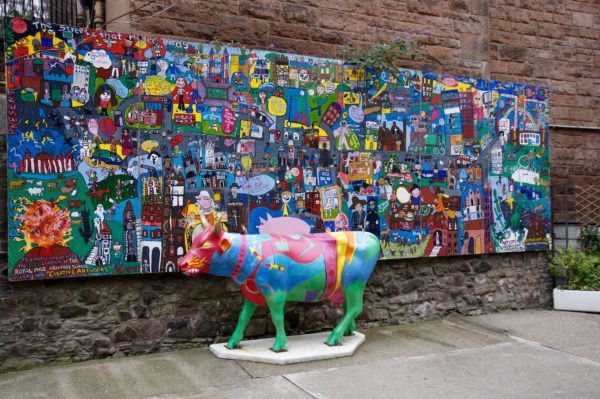 Leith Walk By-Election results
Tickets to see Chris Hadfield go on sale today
Asda Chesser and their fundraising
Border Biscuits Baking Bonanza
Aid for Syria
The following people stood for the council by-election held in Leith Walk yesterday:
DONALDSON, Marion – Scottish Labour Party
HUSSAIN, Mo – Scottish Liberal Democrats
LAIRD, Tom – Scottish Libertarian Party
MELVILLE, Alan Gordon – UK Independence Party (UKIP)
MURDIE, Gordon – Scottish Conservative and Unionist
RAE, Susan Jane – Scottish Green Party
REID, Natalie – Scottish Socialist Party
RITCHIE, John Lewis – Scottish National Party (SNP)
SCOTT, John Ferguson – Independent
WHITEHEAD, Bruce William – Left Unity
The results were announced late last night at the City of Edinburgh's HQ Waverley Court and you will find our coverage of the event as it unfolded live in our Live Section
here
.
The result showed a Labour gain as Labour's Marion Donaldson was elected along with Lewis Ritchie.
***
Tickets go on sale today at 10am for 'An Evening with Colonel Chris Hadfield' is a unique 90 minute presentation by this Canadian pioneer reflecting on his 35 year history as a military pilot and astronaut.
An evening with Chris Hadfield will open your eyes to dream the impossible.  Together with rarely seen videos from Chris Hadfield's personal collection audiences will be mesmerised by the beauty of our planet from a perspective usually only given to the very privileged few.
***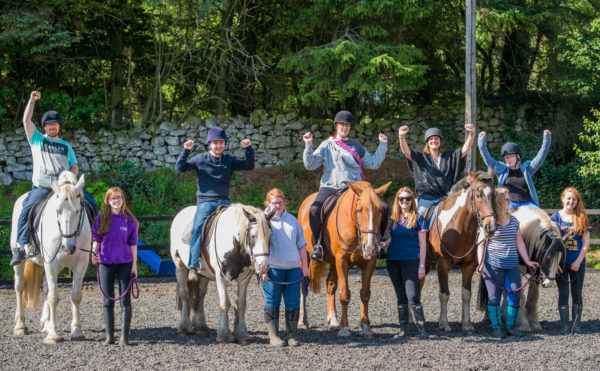 Colleagues from Asda Chesser took to the saddles last Sunday to raise more than £500 for Ravelrig Riding for the Disabled and Tickled Pink.
Six colleagues from Asda Chesser took part in an hour long lesson where they were challenged to have a go at trotting, games and balancing. The lesson was led by an experienced volunteer who demonstrated the benefits of horse riding and how a variety of activities can improve co-ordination, balance, muscular development and fitness for those with a disability.
Ravelrig Riding provides both children and adults with a disability the opportunity to ride and enjoy all the activities connected with horse riding. Colleagues at Asda Chesser have been long term supporters of Ravelrig and back in 2013 helped the riding school with its £1.2m fundraising drive.
Barbara Johnstone, Ravelrig Riding for the Disabled, said: "We were very excited about having the Asda colleagues in for a lesson, and grateful for their fundraising support. There are so many people who benefit from the Riding School, so to be able to hit our fundraising target and improve the facilities, would make a big difference to those who attend Ravelrig. "
Linda Anderson, Asda Chesser community life champion, said: "The colleagues enjoyed taking part in the riding challenge. Being able to support the amazing work of both Ravelrig and Tickled Pink has been a pleasure.
"The entire store was fantastic in their support for those who took part. We really wanted to add to the amount we've already raised for the Ravelrig Riding School and continue our support for Tickled Pink. They are worthy causes close to a number of colleagues' hearts."
Asda launched the Tickled Pink campaign back in 1996 to raise money to help improve the lives of people with breast cancer. It supports two charities; Breast Cancer Now and Breast Cancer Care.
***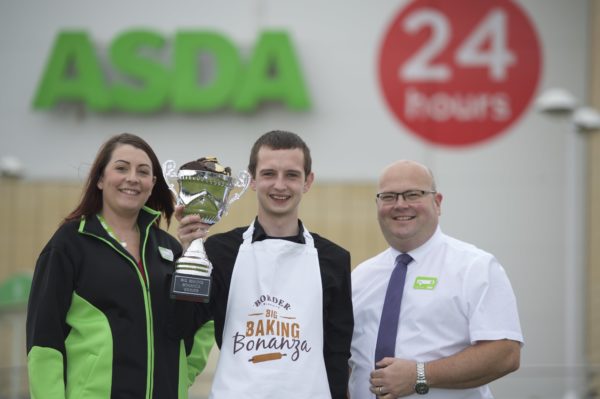 Rory Sutherland, a 21 year-old Airline Customer Services Agent from Edinburgh, has been crowned the Border Biscuits Big Baking Bonanza winner, after a nationwide search for the best biscuit recipe. His Chocolate Orange Thins recipe wowed the judges and will go on sale exclusively in Asda from January.
The recipe was picked for its creativity, innovation and delicious taste and was judged by an expert panel including high profile baking bloggers from around the UK, representatives from Asda and the Border Biscuits baking team.  Rory's winning recipe also secured him a £2,000 cash prize and the opportunity to visit the factory to see his recipe being created.
Rory started to bake biscuits after discovering he was allergic to eggs, which prevented him baking cakes. Starting with just a simple recipe, he was delighted with the results and has since kept up the biscuit baking, experimenting with different flavour combinations, avoiding ingredients that many people can be allergic to like nuts.
Rory said: "I'm thrilled to win the Big Baking Bonanza and I can't believe my recipe has been selected from all of the other entries. I thought my Chocolate Orange Thins recipe was unique and it uses on trend flavours. My friends and family are big fans of it, so I'm really pleased that I have been chosen as the winner."
Lesley Ann Gray, Brand and Marketing Manager at Border Biscuits said: "We had a lot of outstanding recipes this year so picking an overall winner was really tough. We felt Rory's recipe was very strong and would fit in with the Border Biscuits family. The flavours and textures work well and complement our existing biscuits and we're looking forward to seeing it on the shelves in Asda."
June Rose, Buying Assistant from Asda added: "It's great to meet Rory and have him in store today to show him where his creation will appear on the shelves. I am sure Rory's Chocolate Orange Thins will be very popular, they're delicious!"
For more information visit www.borderbiscuits.co.uk or join Border Biscuits on Facebook www.facebook.com/BorderBiscuits, and Twitter @BorderBiscuits for regular updates.
***
The Muirhouse Community Shop has announced that it is a collection point for aid to Syria.
Lisa Anderson secretary of Edinburgh Direct Aid who will distribute the aid said: "Edinburgh Direct Aid are pleased to be working in conjunction with TRIM and the Community Shop again, following a successful response to our previous appeal"
"Focusing on the needs of refugees who have fled from the war in Syria and are now living in difficult conditions in refugee camps in Lebanon, EDA are planning to send a container of aid out to Lebanon"
"Field workers at the camp have instructed us with what items are needed, and we are asking people to donate items from the following list that they have prepared"
" We appreciate any help possible, please see our website for continuous updates."
It would be best if any items could be delivered to the shop during next week.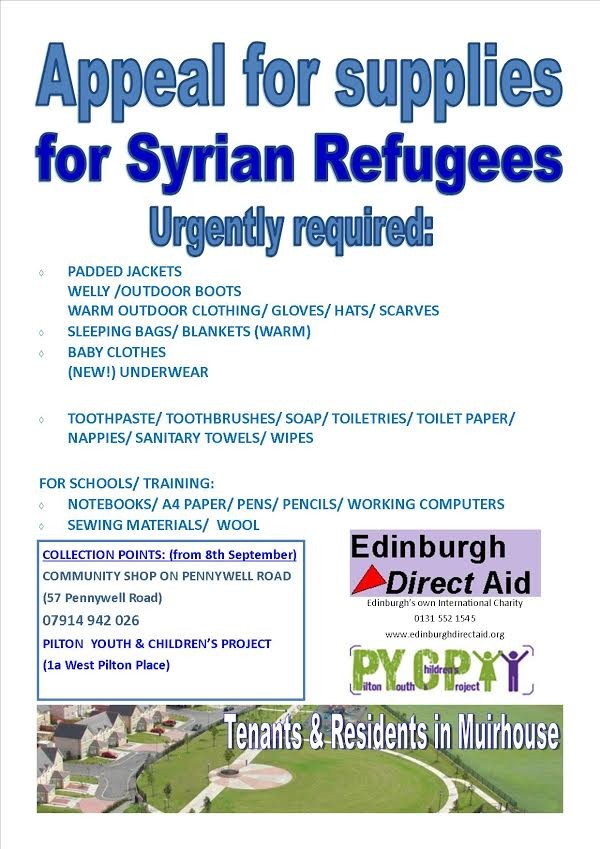 Sign up here for a daily email from The Edinburgh Reporter !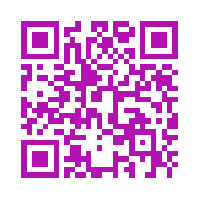 If you are reading this article in print and would like to visit The Edinburgh Reporter website then simply scan the QR code above with a smartphone or tablet.