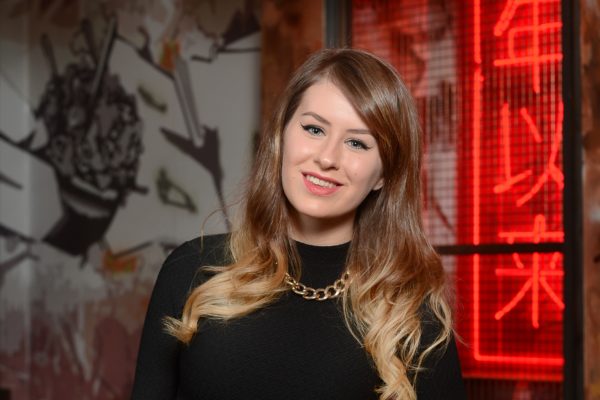 A law student from Edinburgh has celebrated her 21st birthday in Japan during a once-in-a-lifetime opportunity learning about the country, its culture and commerce.
With a passionate interest in Japan, Caroline Marshall won the prestigious Thomas Blake Glover Aberdeen Asset Scholarship which is administered by the Japan Society of Scotland and says it has helped her bridge the gap between east and west and given her a greater understanding – and admiration – of the nation.
As scholarship winner she received a six-week fully-funded intensive language study course at the International Christian University (ICU), Tokyo.
A former pupil of Trinity High School and Stonelaw High School, both Rutherglen, Glasgow, Caroline is about to begin her fourth year studying law at the University of Edinburgh and hopes to pursue a career in international commercial law.
Spending the summer studying in Japan has fuelled her desire to consider following a career path that takes her to Japan.
Caroline says: "I was the only Scottish person at ICU and I am also the only European girl, so I feel my responsibilities as a representative have been multiplied many times.
"However, this is not a negative thing – I came on this journey to meet new people from other countries who could teach me about their own cultures whilst sharing with me a love of everything Japanese. That's exactly what I've found and I can't imagine gaining this kind of experience anywhere else.
"The programme is designed to teach a year of university level Japanese in six weeks. While this sounds daunting, it's been an exciting and unique opportunity. I'm glad to have come here with some knowledge of the spoken language, as it's made the transition a little easier and has allowed me to focus on learning how to write.
"Attending classes are only part of the experience. ICU runs a cultural programme alongside the course, meaning that students are given the opportunity to experience many traditional Japanese activities or places with Japanese students to guide us."
Caroline's love of Japan developed after learning about the country at primary school aged just 10. She became a fan of the Japanese tradition of the Takarazuka Forum Theatre, a distinguished all-female acting school, and attended Japanese classes in Edinburgh.
Aside from classes and studying, Caroline has visited many places and experienced many different cultural experiences, including attending the National Theatre of Japan to watch a Kabuki performance and has tried ikebana, the art of Japanese flower arrangement and experiencing zazen meditation at a Buddhist temple.
While there have been many amazing things to do, some of her favourite experiences were the simple everyday things, like shopping, and she has been struck by the high level of respect shown to customers and the sheer volume and range of items available in shops.
Caroline added: "I had never been to this side of the world before, and I always hoped that one day I would have the opportunity to practice commercial law internationally and to further my study of Japanese, perhaps going on to work there.
"These are all big dreams, which I thought I would never have the chance to make a reality until Aberdeen Asset Management and the Japan Society of Scotland offered me this chance. I've really made the most of this wonderful opportunity. I've learned so many things and met so many people that I will carry with me beyond my time in Japan and for that I feel very fortunate.
"I feel that taking part in a small project in primary school over ten years ago changed the course of my life completely.  Through this scholarship, Aberdeen Asset Management and the Japan Society of Scotland have created a milestone in my life that I feel has already set me on a new and exciting path."
More about the scholarship can be found at www.facebook.com/GloverScholarship, www.twitter.com/gloverscholar  and www.japansocietyofscotland.org.uk/
PHOTO Neil Hanna Photography
www.neilhannaphotography.co.uk
07702 246823