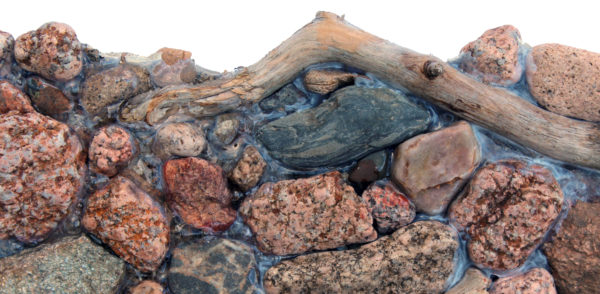 Earlier this week Edinburgh artist Andy McIntosh announced a solo show at the Scottish Design Exchange – a new gallery space in the city's Ocean Terminal shopping centre. The exhibition, entitled "Shores", opens on 30 October and runs until 13 November. The exhibition will showcase Andy's body of work which includes landscapes constructed from found objects, and works made using his pioneering "concrete printing" technique.
Originally from Perth, McIntosh launched his career as a more conventional landscape painter. In 2005 he made the decision to set himself a new, challenging set of parameters – he would continue to make paintings, but without brushes, paint or canvases. Approaching the problem of commercial waste culture with postmodern humour, Andy began to comb scrap yards. He discovered objects and remnants that suggested narratives, and thus his unique painting language was created. Discarded items placed in the frame and gallery context take on characters of their own, helped along by the cultural references in their titles.
Still deeply influenced by the Scottish landscape, Andy has begun to develop works made of found objects collected on beaches and from Scotland's wild places – these will feature prominently in the Shores exhibition, which evokes ideas of edgelands, flotsam, and objects manipulated in part by the elements. The title also references the gallery's location, which is directly on the shore of the Forth estuary.
"The title image is a detail of a new piece called Loch Muick, located near Ballater in the Scottish Highlands. This is a very special place to my wife and I and I was inspired to create it after a walking trip up there a few weeks ago. It's made of found objects fused with clear plastic."- Andy McIntosh
Concrete Printing
The artist's concrete printing technique, discovered by accident, involves a process where Images printed onto acetate are transferred onto the concrete surface, which absorbs the ink. This results in a 2-D image which is something of an industrial fresco for the 21st century.
Green with Orange Short Film
On 4 October, Glasgow's Centre for Contemporary Arts will show a short film about Andy as part of their World of Film International festival. A project by graduate director Michal
Korzonek, the film explores the impact of Andy's artistic career on his everyday life, looking at how he manages parenthood and his "day-job" in conjunction with his practice and the demands of exhibiting.
Submitted by Andy McIntosh