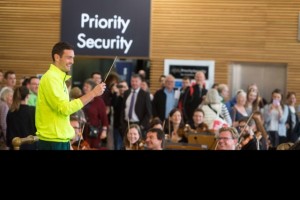 The Royal Scottish National Orchestra (RSNO) performed at Glasgow Airport today,  presenting well-known classical favourites, and provided an opportunity for outgoing travellers to take to the podium before taking their flight.
RSNO Music Director Peter Oundjian led Scotland's national orchestra for two performances at Glasgow Airport's Departures area, opening the facility's Best of Scotland Festival. The festival will give passengers the opportunity to celebrate and experience Scotland's finest food, drink and culture, and will see the terminal and surrounding areas showcase some of the best tastes, sights and sounds the country has to offer.
As part of the Best of Scotland celebrations, the RSNO's Peter Oundjian invited willing participants from the passing travellers, including Edinburgh born Celtic and Scotland goalkeeper Craig Gordon, who was travelling with the Celtic football team to Azerbaijan for their latest Champions' League qualifying match, to take to the podium in front of sixty assembled orchestral musicians, providing the opportunity to lead a professional orchestra before catching their plane. The apprentice maestri were offered the choice to conduct either 'Montagues and Capulets' from Prokofiev's Romeo and Juliet, more recently adopted as the theme to the BBC TV Series The Apprentice, or Rossini's William Tell Overture, who many might recognise as the title music to The Lone Ranger.
To add to the pressure of conducting a professional orchestra for the first time, the participants were marked on style and technique by members of Scotland's national orchestra, and the winners received a gift certificate to spend in the retail outlets, kindly donated by Glasgow Airport.
RSNO Music Director Peter Oundjian said: "We're always looking for new ways to present the live orchestral experience to audiences, and over the past four years we've developed a successful partnership with Glasgow Airport. Last year we invited Scottish Commonwealth gold medal-winning judo champion Sarah Clark to conduct the Orchestra in a rendition of Flower of Scotland, and this year I was delighted to be joined in front of the musicians by a flurry of talented first-timers, including Craig Gordon, who turned out to be very good with his hands."
Steven Marshall, Marketing and Customer Insight Manager at Glasgow Airport said: "This summer has been one of our busiest on record, with the launch of some fantastic new routes and services and a series of major events taking place including the IPC swimming championships and the Scottish and British Opens at Gullane and St Andrews.
"For many, Glasgow Airport is their first and last impression of Scotland, and our Best of Scotland campaign is a great way to celebrate the quality of our country's fare while also providing exciting and interesting entertainment for our passengers.
"The various events and live performances we have planned, including this eagerly anticipated one from RSNO, will no doubt make a real and lasting impression on the hundreds of thousands of people travelling through our doors.  We were delighted to see such an enthusiastic response to the conducting challenge. Many congratulations to all those who took part!"
The RSNO is participating in several key events over the summer. The musicians, led by Peter Oundjian and joined by pianist Igor Levit, will be performing at the Albert Hall, London, as part of the BBC Proms on Wednesday 2 September. It is also a key component in three events at the Edinburgh International Festival this year, as well as presenting a gala celebration, Brewin Dolphin presents Music at the Museum, at Glasgow's Kelvingrove Art Gallery and Museum on Friday 11 and Saturday 12 September. The RSNO's 2015:16 Season opens with Mahler's Resurrection, at the Usher Hall, Edinburgh on Friday 2 October and at the Glasgow Royal Concert Hall on Saturday 3 October.