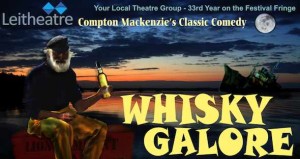 The Edinburgh Festival Fringe has a vast array of shows, the majority of which are in the centre of our stunning capital city. However, there are some fine performances to be seen away from the more obvious venues – and one of them can be found in Leith.
The Leitheatre's fine production of Compton Mackenzie's classic comedy Whisky Galore! is currently showing at South Leith Halls, just off Great Junction Street. Directed and produced by Lynne Morris and Stephen Hajducki from an original stage adaptation by James Scotland, Whisky Galore! is a gentle meander through a bygone age set on the fictional Outer Hebridean island of Todday during the Second World War.
When a ship bound for America is run aground on the island following dense fog, thousands of cases of the finest whisky are washed ashore. The locals are intent on 'saving' the cargo but the Home Guard Commanding Officer, the officious Captain Waggett is intent on spoiling these intentions.
The Leitheatre's production of this famous story is humorous and couthy with a wee bit of romance thrown in for good measure (if you'll pardon the pun)
At more than two hours it's good value for money even if the first half of the show did seem overly long. However, it's a splendid evening's entertainment.
Edinburgh Reporter Rating: ***