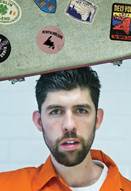 A casualty of near terminal Californian beach debauchery, Christy, professional hedonist, boards his Dublin bound plane. His welcoming party might be girlfriend, Penny, resting a placard on her pregnant belly. But things are about to get a whole lot worse – on a globally defining day – 9/11. So begins Christy's autobiographic odyssey as the plane is diverted to Newfoundland. Playwright, Philip Doherty's volatile script, both prose and verse, explodes in a vortex of visceral streams of consciousness. Machine-gun slicing alliterations collide with merciless imagery and the surgically incisive minute of character observation. Please note the age recommendation!
One man show whirlwind, Rex Ryan, is a tour de force combining muscular mime with balletic brutality. His character shifts and seamless time-jump narratives growl with feral sweaty-casual. Christy's increasingly confessional internal dialogues begin to unravel tortured childhood memories of an errant father and his own impending fatherhood.
For once in his life Christy is defined by his enforced predicament as one of the stranded 'plane people' a microcosmic diaspora compelling him to step outside his conceited self-absorption and look through others' eyes and hearts. No spoilers here but suffice to say that Christy's rite of passage does not come unscarred or with initial atonement. Imagine taking a lyrical bath in Tequila as Dylan Thomas and Joyce dip in liberally with some personal anecdotes.
This show will resonate long after the performance and will evenesce the psyche like a saucy wink from sexy angel. Thoroughly recommended but mind the age guidance. Pilgrim exploded on to the 2014 Dublin Fringe and it is about to terrier take and shake up Edinburgh's by the scruff of its well deserving neck.
Pleasance Courtyard (Above). 12.20. Approx 60 mins. Age 14+ recommended on flier. Check website for varying date pricing ranging from £6.50/10.