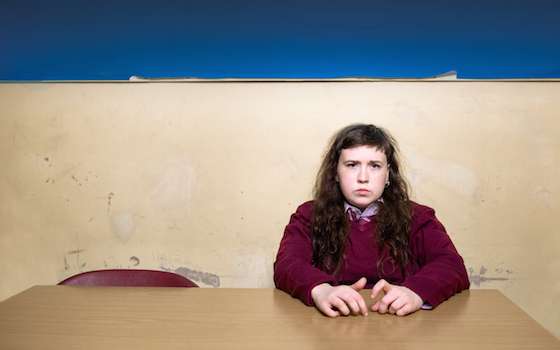 Brute (winner of the 2015 IdeasTap Underbelly Award) starts the Fringe the way it deserves to begin. Nestled among endless posters advertising another show piggybacking on a mainstream cultural phenomenon, or yet another stand-up show, Brute give voice to the character of fourteen year-old Poppy, who's been having mostly a rough time of it since transferring to the local all-girls state school.
As portrayed in Izzy Tennyson's one-woman show, Poppy arrives on the stark stage full of the awkward physicality and need for expression of adolescence. She's so raw and open that the audience wants to root for her. Poppy disarmingly admits that she doesn't get her own humour, so the audience helpfully laughs along. Even if they don't always get it, either.
Tennyson uses Poppy's artlessness to lead a supportive crowd through the story of a group of schoolgirl friends based on true life that unreels a series of increasingly unsettling revelations. In the end, Brute shies away from following through entirely on a building sense of unease, choosing instead to inch up towards the water's edge before pulling away in thwarted teenage bravado. Nevertheless, it is a courageous piece of storytelling.
Brute is on at Underbelly Cowgate – Iron Belly (Venue 61), 16:10, 7-31 August.
Submitted by Ricky Brown