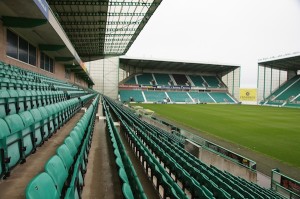 Stephen Dunn has been appointed to the Hibs'  Board as a Non-executive Director.
Dunn, a lifelong Hibernian supporter, was Human Resources and Communications Director at the Miller Group, and previously, Corporate Services Director at ScottishPower.  He is also the Vice Chair at the Royal Lyceum Theatre, Edinburgh.   He previously served on the Board of Hibernian during the era that spanned from Alex McLeish to Tony Mowbray.
He is a Director of Hibernian Supporters Limited, a Company set up to raise funds and buy shares in Hibernian for the benefit of all supporters.
Chairman, Rod Petrie said: "It is great to welcome Stephen back to the Club as a Non-executive Director. Whilst older, his energy is undiminished and his love for the Club stronger than ever. We look forward to the contribution he will make in the coming years."
Stephen said: "I am delighted to accept a position of Non-executive Director and be directly involved with our Club again.  I have been really impressed with the way in which Alan Stubbs and Leeann Dempster have gone about the overhaul of the Club.  I see a bright future ahead for Hibernian both on the park, and off, and that now the time is right for all supporters to come together and help take the Club forward.
"In December the Board outlined their plans for wider supporter ownership and made shares available to supporters to buy-in and own our Club.  I see one of my key roles is to help drive that process towards greater supporter ownership with my role at the Club and as a Director of HSL."
Leeann Dempster, Chief Executive, welcomed Stephen's appointment. She said: "Stephen brings with him great commitment, energy and ability. He will have a real role to play in helping us through this period of change and I am delighted to have his support in this task."