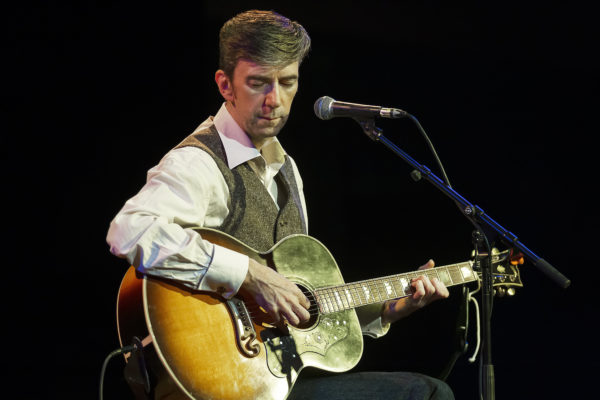 An evening in the company of James Grant is always a time for reflection. He is one of Scotland's finest songwriters, which is no faint praise in a nation steeped in song writing tradition. He may be best known to many as the powerhouse behind Scottish rock band Love and Money, but he has a prolific and accomplished body of work as a solo artist.
His song lyrics stand as poetry in their own right, and he uses them to pose some big questions. Love, sex, death; no subject is beyond the scope of his hauntingly beautiful songs. His songs are nuanced, deeply human, with melodies that swoop and soar. Only truly great songs have such power when delivered with the simplicity of voice and guitar. This is no ordinary voice, its inordinate power filling the lofty spaces of Edinburgh's Queens Hall to its historic rafters.
"I love this room" he grins. "It's a great room to play and sing, and hear sad songs and shite patter" He peppers the performance with pithy anecdotes, his characteristic dark humour lifting the mood when we threaten to become overly emotional.
True to form, as he prepares to give the audience "Whisky Dream"  he tells the audience, with tongue firmly in cheek, "I wrote this on the piano when I was going through a Kate Bush phase. But the Lycra didn't suit me, so I transcribed it to the guitar." The audience is still chuckling when they are transported by a song which is the embodiment of love and longing
His music taps into the emotions that we Scots, in our reticent way, rarely articulate. We need artists like Grant to articulate our common humanity with all its vulnerabilities and frailties. "I'll Catch You When You Fall" from the album "Little Death" is particularly moving. Frankly, if this song doesn't bring a tear to your eye, I consider you dead inside, and beyond help.
Again he lifts the mood as he digresses into tales of his rock and roll days before he became a family man and slightly more restrained. He describes a conversation between his Producer Gary Katz with the legendary drummer Steve Gadd. Gadd, while immensely talented, partook freely of controlled substances, which may or may not have led to some lapses of memory. He describes him listening to a track and exclaiming "Hey man, this guy is incredible, who is he?"
"It's you, ya ****" came the exasperated reply.
Classics such as "Walk the Last Mile" and "Jacqueline's Shoes" delighted the audience. His execution is masterful, every note perfectly pitched.
Grant introduces 'My Father's Coat' from the album 'Strange Flowers'. "It took about a year to write" he explains. He describes the comment made by esteemed Scottish writer William McIlvanney, who appeared in the video. "Jesus, it's very complex, isn't it? It'll never get played on the tranny".  It is indeed deep, dark and disturbing, and admittedly too challenging for many radio stations. This is a song to be admired and respected, while peering into its unsettling depths from a safe distance.
With songs like "Holy Love" from the eponymous album, Grant gives us utterly beautiful, melancholy songs delivered in a voice with such richness, depth and pathos that not even the dourest of scots could fail to be moved.
A personal highlight is "Sometimes I want to give up" which is frankly one of the greatest songs ever written. Anywhere. Ever.
This segues seamlessly into "Last Ship on the River". It plays fast and furious, still as relevant today in Austerity Britain as it ever was.
"I like songs with a built in ambiguity, but sometimes you've just got a broken heart and youre trying to make sense of it." Grant muses. The perfectly formed "Sin of Pride" is indeed heart-breaking in its simplicity, a pure and simple melody in the finest Scottish tradition.
His voice is as powerful now as when he was the skinny wee lad in Hipsway, although in fairness he's still a skinny Glaswegian with the associated banter. Grant performs songs that were classics from the day they were written, which explains their freshness today.
"I really appreciate you coming out. It keeps the songs alive, which is really important to me, because they must still resound with you."
He ended the set with "Winter" which was simply sublime.
Predictably, the Queen's Hall audience wasn't letting him go so easily and raucously summoned him back for an obligatory encore. He chose the evangelical and uplifting "Will the Circle Be Unbroken" to end the evening on a high note.
James Grant will be playing King Tut's Wah Wah Hut in Glasgow on  27/06/15
Photo by kind permission  © Malcolm McCurrach 2015 | All rights Reserved. picturedesk@nwimages.co.uk  | www.nwimages.co.uk | 07743 719366