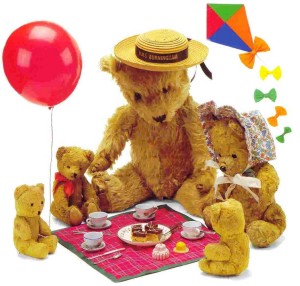 Leith Festival 2015: Teddy Bears' Picnic! A fun morning of crafts, songs, toys, a Bible story and a picnic; for all pre-school children – don't forget your Teddy Bear! 10-11am, YMCA/Acorn Centre, 1 Junction Place. Free. For more information please call Katherine Sced on 07512 786 731 or email info@gracechurchleith.org.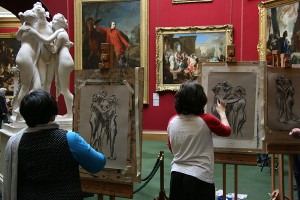 Easel Sketching in the Gallery – June: led by artist Damian Callan. A different subject every month, sometimes with a model. 2-4pm, Scottish National Portrait Gallery (please ask at the information desk for exact location), 1 Queen Street. Free; no booking required; all materials supplied.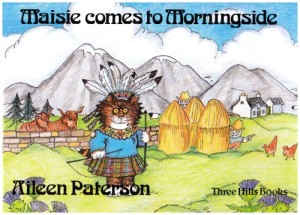 Aileen Paterson: the author of the Maisie the Cat books talks about the process of becoming a children's writer/illustrator. 2-3pm, Boardroom, Central Library, George IV Bridge. Free but booking is required via eventbrite here. This event forms part of In Their Own Write – Women and Words, a festival of talks, exhibitions and workshops organised by Glasgow Women's Library, Edinburgh City Libraries and the Bonnie Fechters women's group. Aileen will follow this event with a story session for children in the Children's Library from 3-4pm – please contact the library for more information.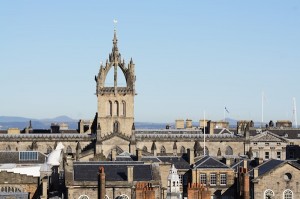 Lunchtime Concert: First Presbyterian Church of Granville, Ohio – Chancel Choir and Festivo Bells.  12.15pm, St Giles' Cathedral, High Street. Free.
Edinburgh Festival of Cycling continues today! Rides, films, talks, drama, books, photos, workshops and lots more. Today's events include a special bike films night at Balerno Village Screen, a talk by Thompson Crowley, author of At Home in the Bushes (see separate listings), a day of cycling diversity with Crags All Ability Bikes  – a chance to try out range of machines and find the right bike for you – including adapted machines from Get Cycling CiC (York) and some recumbent trikes from Laid Back Bikes, and The Edinburgh Night Ride – a new mystery route through East Lothian. For more information please see the festival's website here or its Facebook page here, or pick up a programme from many venues across the city and beyond, including libraries, leisure centres and many shops. Ends 21st June 2015.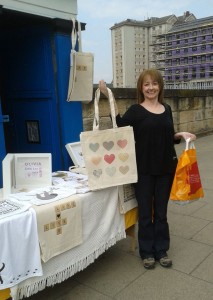 LA Young Designs Fathers' Day Gift Stall at Leith Walk Police Box: personalised gifts – funky T-shirts, wall art and eco bags. 10am-2pm, Leith Walk Police Box, Croall Place.
Edinburgh College of Art Undergraduate Open Day: come and see the college, find out about its programmes, meet academics and students and see some of the students' work from the recent Degree Show. You will also be able to attend other talks – on topics such as accommodation (there will also be a chance to see some), student finance and study abroad, as part of the wider University of Edinburgh Open Day. 9.30am-5pm, Edinburgh College of Art, Lauriston Place. Booking is essential; to reserve your place via eventbrite click here, and to find out more about the day's options, click here.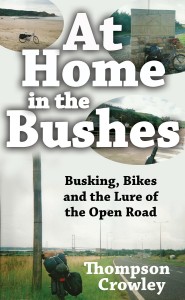 At Home in the Bushes: a twenty-minute talk from the author Thompson Crowley, who will discuss the joys of cycling, the rush of the road, the wonder and awe of the scenery, and how cycling and wild camping can save the world. 2-2.30pm, Central Library, George IV Bridge. Free but booking is required via eventbrite here. This event forms part of Edinburgh Cycling Festival 2015.
University of Edinburgh Open Day: find out about student life in Edinburgh from the students and staff themselves, explore the campus, learn more about the range of courses available, and ask questions about accommodation, admissions and job prospects. There will be a programme of talks throughout the day, and the opportunity to chat to departmental staff. 9.30am-5pm, University of Edinburgh. Booking is essential; to reserve your place via eventbrite click here, and to find out more about the timetable for the day click here.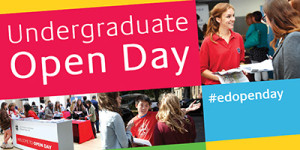 There will be a pre-Open Day online chat session for you to ask questions about the day's programme and activities, and any queries about travelling to the university, on Tuesday 16th June from 3-7pm; to join in go to the University of Edinburgh Admissions Facebook page here. Further Open Days will be held on 7th and 26th September 2015.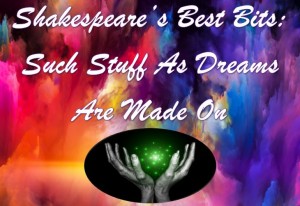 Edinburgh Acting School Presents Shakespeare's Best Bits: Such Stuff As Dreams Are Made On. A group of actors audition for the ultimate Shakespearean play, which is a mixture of Shakespeare's best bits. Watch as they tackle some of the most famous moments under the scrutiny of a director who has had enough of seeing Shakespeare done badly. A treat for all – with or without any knowledge of Shakespeare! Suitable for ages 12+. 7.30pm, Netherbow Theatre, Scottish Storytelling Centre, 43 High Street. Tickets cost £10/£8 and may be purchased in person, by calling the Box Office on 0131 556 9579 or online here (transaction fee applies to phone and online bookings). Also at same time on Saturday 13th June 2015.
Images of Waterloo: from Battle to Bicentenary, 18th June 1815 – 18th June 2015. Freelance art historian Dr Patricia Andrew examines the colourful artistic creations inspired by the Battle of Waterloo, from the date of the battle itself right up to the present day. The centenary commemorations of 1915 are also included; they were held during the First World War, when political alliances had changed completely. 12.45-1.30pm, Hawthornden Lecture Theatre, Scottish National Gallery, The Mound. Free and unticketed.
Radical Politics and Citizenship in Europe: from the Balkans to Scotland. A book launch and round table discussion with speakers Penny Travlou (Edinburgh College of Art), Srecko Horvat (Croatian philosopher and writer) and Igor Stiks (Edinburgh College of Art). The background for the discussion will be three books, Welcome to the Desert of Post-Socialism, a volume on socialist heritage and post-socialist reality, edited by Igor Stiks and Srecko Horvat, Nations and Citizens in Yugoslavia and the Post-Yugoslav States, an examination of geneology of citizenship in the Balkans by Igor Stiks and What Does Europe Want? by Srecko Horvat and Slavoj Zizek. 6pm, Word Power Books, West Nicolson Street. Free: all welcome – donations also welcome!
Balerno Village Screen: Rising From the Ashes. An award-winning and critically acclaimed feature-length documentary about two worlds colliding, when cycling legend Jock Boyer moves to Rwanda to help a group of struggling genocide survivors pursue their dream of forming a national team. The screening will be preceded by Danny MacAskill's short The Ridge. This event forms part of the Edinburgh Cycling Festival 2015; a complimentary cold beer will be served by the bike caddy team from Heverlee Witter. 7.30pm (doors open 7pm), St Joseph's Hall, 2 Main Street, Balerno. Free; all welcome – but please reserve your place via eventbrite here to enable the organisers to manage numbers (and please also remember to cancel your booking if you can no longer attend). Balerno Village Screen is a community cinema funded by donations.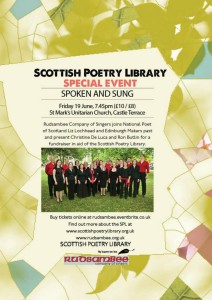 Spoken and Sung – a night of music and poetry with Liz Lochhead, Christine de Luca, Ron Butlin and the Rudsambee Company of Singers, in aid of the Scottish Poetry Library . Refreshments on sale during the interval. 7.45pm, St Mark's Unitarian Church, Castle Terrace. Tickets cost £10/£8 and may be purchased via eventbrite here.
The Portobello Comedy Night: Bruce Morton, Daisy Earl, Christopher MacArthur-Boyd, MC Stephen David, and a 'very special' guest. 8.30pm, Dalriada, 77 Promenade, Portobello. Tickets cost £10 (transaction fee applies) and are available from Brown Paper Tickets here.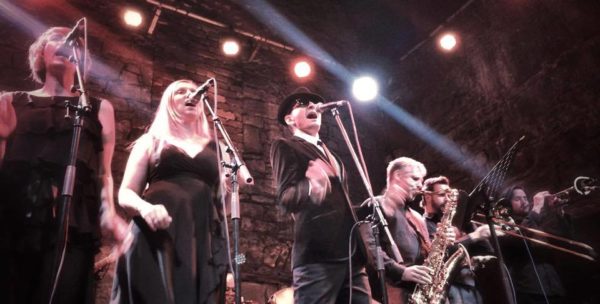 Soulacoaster Live. A night of live music with Edinburgh's 12-piece soul band; a set packed with hits made famous by legends such as The Blues Brothers, Aretha Franklin, Stevie Wonder and The Commitments. For over 18s only. 7pm (doors open – on stage 8pm), The Voodoo Rooms, West Register Street. £7 on the door.
Edinburgh International Film Festival continues today! For details of all films and other events see the programme here or pick up a paper copy at EIFF venues and many other locations throughout the city. Tickets are available in person from the Filmhouse, Lothian Road, Cineworld, Fountain Park, Odeon, Lothian Road and the Festival Theatre, by calling 0131 623 8030 or online here. Today's highlights include The Taking of Pelham One Two Three (1974), a special retrospective screening of Joseph Sargent's cult classic in which an armed gang hijacks a subway train, forcing a downbeat transit cop (Walter Matthau) into a battle of wits with the wily gang leader (Robert Shaw), and Big Gold Dream: Scottish Post-Punk and Infiltrating the Mainstream, the story of record label Fast Product, started in the late 70's in Bob Last and Hilary Morrison's Edinburgh flat, that led to a music scene that reverberated throughout the UK and beyond.
A Traditional Swedish Midsummer: the newest member of the Boda family offers you frog dancing, food, live music and Akvavit to celebrate the summer solstice – and yes, it's dog-friendly! 6pm, Akva, 129 Fountainbridge (at the canal basin).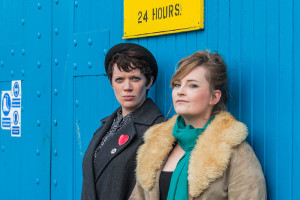 Rally & Broad: literary cabaret duo Jenny Lindsay and Rachel McCrum bring you the best in spoken word, live literature, new music and 'other spiced treats' in their last Edinburgh show of the season, with Ross Sutherland, Hannah Silver, Dan Willson (Withered Hand), Ryan Van Winkle and Caro Bridges. 7pm, The Bongo Club, 66 Cowgate. £5 on the door (sta).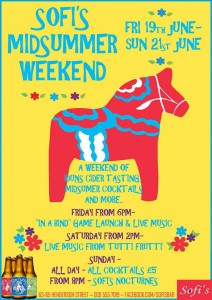 Sofi's Midsummer Fruit Weekend: cider tasting, music, games, head garlands and exclusive fruity cocktails. 6pm today and onwards through the weekend, Sofi's Bar, Henderson Street.
Nitekirk: a creative, drop-in experience of church. Reflection, gentle music, places of activity (Scripture, prayers, poems, pictures, art supplies). Come and go as you please, join in quiet conversation and songs or just sit in silence and enjoy the space. The theme tonight is Joy. 8-11pm, St Columba's-by-the-Castle, 14 Johnston Terrace. 'A place of welcome, a space for stillness, a pause on your journey, an open door'. For more information please email nitekeirkedinburgh@yahoo.co.uk.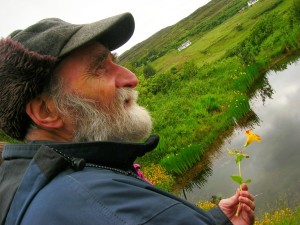 Bardic Journey to Skye: here's your first chance to get away this weekend – though you'll have to be organised; it's not a day trip! Seanachaidh of Glendale, George Macpherson, harpist Heather Yule and Donald Smith of The Scottish Storytelling Centre will lead this story trail, following Gaelic poetry and culture and the lives of the great Gaelic poets through the Highlands by the Trossachs, Inveroran, Glencoe and Keppoch all the way to Glendale and North West Skye. Arriving on Friday evening, the group will join a programme of talks, walks and a ceilidh, returning to Edinburgh on Sunday evening via Skye's special places. Departs Edinburgh 10am today. The total price for the whole weekend is £195, which includes all travel, accommodation and two evening meals. More information can be found on the Storytelling Centre's website here, and booking may also be made online or by calling the centre Box Office on 0131 556 9579.
Solas Festival: your second opportunity for a 'trip out' is a little bit nearer to home, but no less alternative. Solas is not your average festival: as well as headline acts like The Vaselines, The Raghu Dixit Project, Honeyblood and the let's-hope-not-appropriately-named Harry Bird and the Rubber Wellies, there's political and cultural debate with top people like Liz Lochhead, Tom Devine, Denise Mina, Janice Galloway and Gerry Hassan, art from Georgia Yates, Art Against Sectarianism and Joanna Monks, step dancing from Nic Gareiss, films, workshops and a children's programme that includes circus skills, storytelling and a chance to build dens with Instinctively Wild. Solas aims to create a generous, hospitable place where the arts can be performed and enjoyed by all, whilst making space for challenging debate with activists, writers and thinkers from across the political, cultural and religious spectrum. For more information (including accommodation options) and to book tickets, see the festival's website here. Solas takes place at The Bield at Blackruthven, Tibbermore, Perthshire; the festival continues until Sunday 21st June 2015.