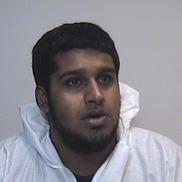 A man who attacked a woman on Leith Links has been found guilty of rape.
Faizan Ali subjected his 28-year-old victim to the serious sexual assault in the early hours of Thursday 11th November 2014.
He was found guilty at court today and will be sentenced at a later date.
Detective Sergeant Keith Fairbairn said: "This was a terrifying ordeal for the victim, who had the courage to come forward, report the incident and work with officers.
"These arrests should send a clear message to our communities that regardless of the circumstances of a crime, we will investigate the matter thoroughly and anyone found to be responsible will be brought to justice.
"I would urge anyone who wishes to report a crime to come forward and rest assured that your report will be treated with the utmost sensitivity and professionalism."