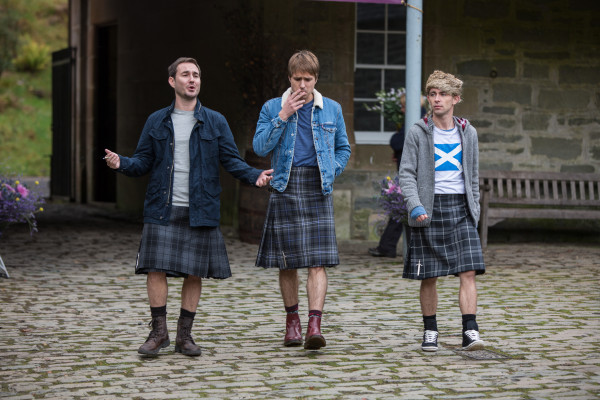 You know you're in for a real treat when the starting notes of The Proclaimers' 500 Miles pipe through the speakers. An apparent obligatory hallmark to Scottish cinema it seems to have been abused as of late; as if a film set in Scotland can't get by without it. It plays a key part in a jolly, totally un-Scottish scene in actress Talulah Riley's directorial debut. The work of an English director doing her best to depict Scotland, it falls victim to a sack load of cliches that are near impossible to forgive.
Unemployed and smoking weed daily, Ritchie is a down and out lad living in Glasgow, searching for a big job opportunity.When he comes across a group of thugs stealing pearls from protected mussels in the Scottish Highlands, he enlists some help from friends to make this his new venture. But in amongst the hysteria, he meets a woman whose passion for the wildlife may force him to change his mind.
Over the tinkling, folksy notes of Paolo Nutini, we descend into the depths of a Scottish river, then to the top of a Govan highrise, followed by a school playground, via a pub and then into the Highlands of the same great country – all in around twenty minutes. The fact that you are thrown straight into this undeveloped story makes it twice as difficult to understand. Usually, this happens through a script being convoluted and poorly edited; but it seems as though there was little to work with in the first place. Riley's character development lays bare the rather flimsy structure of her script. It's clumsy which, when paired with the edited footage, looks and feels hollow and cheap.
You can almost imagine the scriptural meeting that may or may not have occured during the fruition of Scottish Mussel. A checklist of every possible stereotype: slang, garments and painfully stupid people. In actual fact, it's hard to find somebody intelligible here amongst the apparent idiocy. Martin Compston does a standard job here, almost ommiting himself from the complete mess thats going on. Joe Thomas, of The Inbetweeners fame, does a trip around the country trying on every accent possible. Even Talulah Riley, in charge of both script and direction as well as being Ritchie's object of affection, has written herself a two dimensional character. It's the same for near enough everybody, including a camp surprise cameo from Russell Kane, but there is one saving grace amongst it all. Paul Brannigan, whose mainstream work has been solid thus far, is cast as the idiot of the friend group. Delivering his lines with deadpan brilliance, he's the godsend here. His uncomfortably coherent Scots accent makes for most of the laughs.
Scottish Mussel is a feeble directorial effort from first timer Talulah Riley. Suffering from a collection of stupefied characters and an unrealistic, painfully stereotyped view of Scotland and its people, it is highly likely that this will be nobody's glass of Irn-Bru.
★☆☆☆☆
Scottish Mussel plays as part of the Edinburgh International Film Festival 2015. For ticketing information, head to EIFF's website