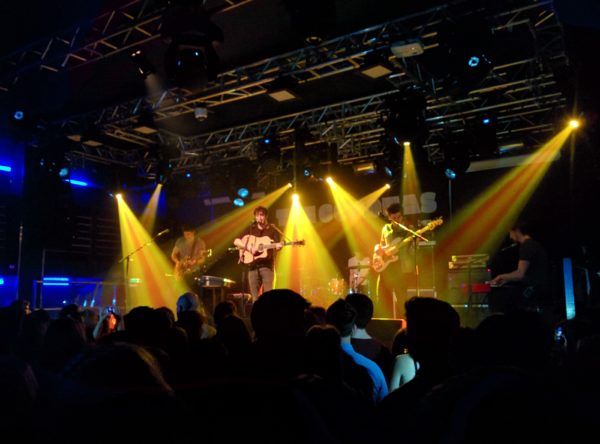 The Coronas' UK tour is a mere footnote compared to the massive shows they have previous played in their native Ireland. The band have headlined 3 Arena and the Royal Hospital, Kilmainham, playing to over 10,000 fans at each event. It really is a stark comparison with Liquid Room only holding 650 people, where The Coronas struggled to sell out.
Outside of Ireland, The Coronas don't experience live intimacy. They don't look fazed or baffled playing to smaller crowds, they play it like an arena show. Front man Danny O'Reilly's smile created a significant impact on the crowd's admirable motivation, both of which never faltered for the duration of the show.
The setlist was predominantly their new album The Long Way, but dedicated fans got their fix of older material from their other three albums. Every song was met with a raucous acknowledgement as soon as O'Reilly announced what the next song was. Accompanied by his keyboard or guitar, O'Reilly's captivating presence as a front man was comparable to Coldplay's Chris Martin. Besides him, every aspect of the band was laudable and faultless – a totally succinct performance leaving no room for any errors.
Their amalgamation of folk and soft rock alongside an impressive lyrical itinerary has allowed The Coronas to pinpoint a narrow niche in the industry, yet unfortunately the band have to endeavour in order to become relevant in the British music scene. It is the same old Irish band situation: only very few can export themselves overseas; the many others lay extremely popular in their native country but fail to transport their notoriety elsewhere.
With four albums under their belt and increased touring, who knows where The Coronas could end up. Perhaps they could be touring all the O2 venues of Britain within the next year. With their impressive stage presence, it wouldn't be surprising.