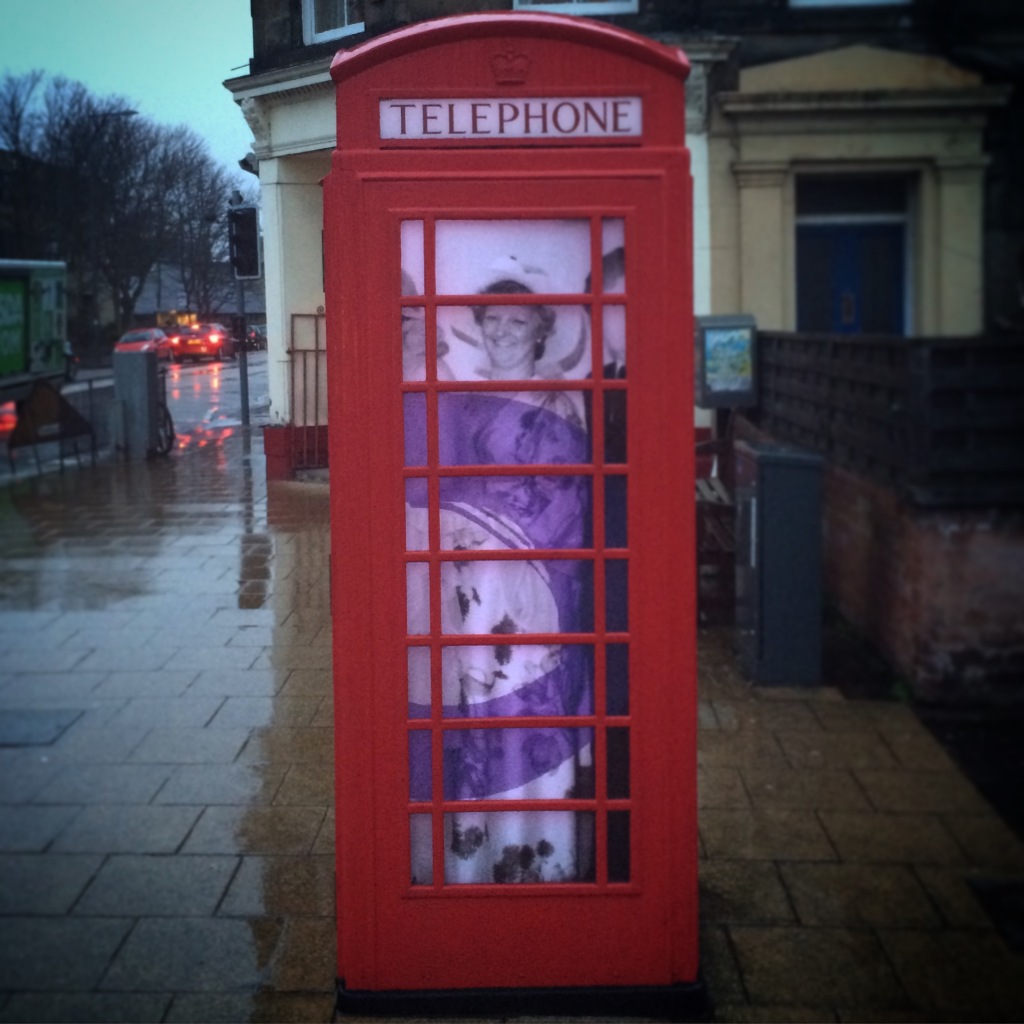 The photo collective 'Not Finished Article' (NFA) has chosen to celebrate International Women's Day by creating a new work especially for a unique outdoor community art/installation space – the Bellfield Street phone box in Portobello.
Decommissioned as a working telephone box since April 2012, the Porty Light Box was established and has been regularly transformed into a range of artworks. Not Finished Article's work 'Exquisite…#MakeItHappen' is a homage to significant older female members in the family. Comprising of three full-length portraits of personal significance to three members of the collective, and linked together by a purple figure of '8' to mark the date, NFA hope the Portobello community will do their own remembering, celebrating of grandmothers and great aunties on International Women's Day.
The artists of NFA explain why, starting with Alicia Bruce. Looking at an image of 'Pat Shearer at my parent's wedding, Aberdeen 1978,' Alicia states:
"I want to pay tribute to my Nanna, Pat Shearer, who passed away suddenly in late 2014. She died twenty minutes after my first baby scan and was told I was pregnant that same day, one of absolute joy followed by heartbreaking pain. 'Nanna Cake', as she was affectionately named by my younger cousins due to her prolific baking, was a wild one and certainly not your average grandmother but had a huge heart of gold and was loved deeply by all of us. She'd be bowled over to know she was part of a life-size piece of street art for International Women's Day near to where her future great grandchild will grow up."
Nicky Bird has this story alongside her family photograph of 'Daphne Underhill in her husband's army uniform, Leamington Spa, around 1939-1940': "My Nan is probably in her late teens, and possibly photographed by my Grandad. She is wearing his army uniform. In the early 1990s she told me about meeting him, how they 'sort of grew up together', that she wasn't even thinking about getting married or having children but 'I don't know, you do silly things in the war…' This photograph always reminds me of her telling stories when we looked at family photographs together, and how over the years I came to understand the woman that I called Nan."
Caroline Douglas provides the third photograph 'May MacKay, on a beach somewhere, circa 1950s.' She states, "This is a photograph of my Great Auntie May. We can't place the exact time and date of the snapshot."
Although not featured in the phone box itself, the artwork reminds her of a poignant Haiku written by her father-in-law Andrew McGeever:
Kodak Camera. 

Family Snapshot 

captures kids in monochrome 

stained by adult tears.
Sylwia Kowalczyk, also known as the Illustrious Illustrator, is the author of the purple figure of 8. Sylwia created this by first making a hand painted 'trace.' The colour of purple was chosen as part of International Women's Day #PaintItPurple theme for this year. Sylwia's graphic brings together the three photographs, making 'Exquisite…#MakeItHappen' a truly collaborative work.
Not Finished Article (NFA) is a collective of four established women artists based in Scotland: Nicky Bird, Alicia Bruce, Caroline Douglas and Sylwia Kowalczyk. As a collective they have distinct, yet complementary practices which together incorporate photography, moving image, the found photograph and the museum collection.
Portraiture and community collaboration also play a distinctive role. NFA meet regularly to share work in progress, attend events such as the Rencontres Arles photography festival, and have more recently contributed collective works to 2014 Frames projections at CCA, GI Festival and Street Level Photoworks.
http://notfinishedarticle.tumblr.com/
Email us: notfinishedart@gmail.com
Tweet them @notfinishedart
To find out more about Porty Lightbox & IWD
https://portylightbox.wordpress.com/
http://www.internationalwomensday.com/nfa#.VPa_qrOsU7Y
Opening Event on 8 March 2015 at 6.00 EXQUISITE…#MAKEITHAPPEN…. MEET THE ARTISTS
About: A celebration of older female relatives. A unique High Street community telephone box art-installation exhibiting old family photos at life-scale outdoors.
Venue: Porty Phone Box Bellfield Street phone box in Portobello Exhibition runs throughout March 2015, Edinburgh, United Kingdom
https://www.facebook.com/events/1424379067859923/
Submitted by Not Finished Article