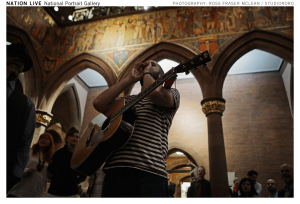 If you've ever seen Wounded Knee – aka singer and experimental vocalist Drew Knight – perform, you'll know just how spellbinding he can be. Well now you have a chance to learn how he does it – the Saturday he'll be leading a singing workshop with the Rhubaba Choir, and everyone is welcome to come along. As Rhubaba say, 'It doesn't matter if you've been in a choir before or only sing in the shower – if you enjoy singing, come along and lend your voice!' Or as Drew puts it, 'Just bring your lungs and your lugs!' Drew 's music ranges from stripped down folk balladry to 'abstract improvised vocalic stravaigs'; he often accompanies his singing with a Shruti box or twa string guitar. It's high energy stuff.
For this event Drew will be taking songs from his own repertoire and a range of traditional material to develop and explore a series of rounds, sea shanties and hollers celebrating summer, cycle paths…and unlimited bus travel – so even if the singing doesn't warm you up, the themes should.
The workshop will take place at Basic Mountain on Hill Street, which was originally built as a dance studio and has excellent acoustics thanks to its domed ceiling. Lunch and refreshments will be served to everyone involved. If you would like to attend you should reserve your place via eventbrite and/or email info@rhubaba.com (so that they can arrange the catering). The workshop will run from 11am to 3pm and is free, but Rhubaba suggest a donation of £5 per person, payable on the day. Rhubaba will be organising more workshops over the coming months, the next two being with singer Christopher Bruerton and artist Serena Korda.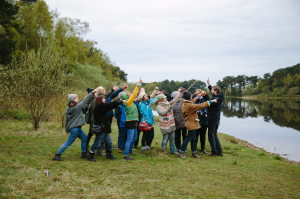 Rhubaba Gallery and Studios is an artist-run organisation in Arthur Street, Leith, providing studio space for 19 artists and a programme of events and exhibitions. The Rhubaba Choir meets twice monthly on Thursday evenings; for more information see www.rhubaba.org.