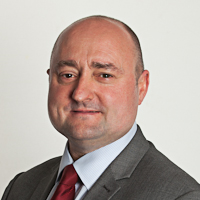 Councillor Ricky Henderson has been confirmed as the candidate for the Westminster seat of the erstwhile Chancellor Alistair Darling who announced his resignation from politics at the end of last year.
Convener of the Health, Social Care and Housing Committee he is well known as a hard working local councillor.
The Scottish Labour  party voted for Henderson ahead of the other nominees who included fellow councillor Norma Austin Hart. 
Married with two grown up children, Henderson has been a councillor for 16 years. He has represented the Pentland Hills ward since 2007.   
Speaking after his selection at a constituency meeting in the Pentland Community Centre, Councillor Henderson said:
"I am absolutely delighted to have been chosen to succeed Alistair Darling as Labour's candidate. He will be a very hard act to follow but I am looking forward to the campaign ahead. It will be hard work but I know Labour can hold this seat. The people of Edinburgh South West know that only by voting for Labour can they get eject David Cameron from Downing Street."
Alistair Darling said:  "My congratulations to Ricky on his selection. I know he will be an excellent candidate. He understands the constituency and will be a first class MP. I'll be doing all I can to ensure he wins the seat for Labour in May."
Darling won the seat last time with a majority of 8447 in 2010 over Conservative candidate Jason Rust who is an Edinburgh councillor. Mr Darling has held the seat since 2005 and previously represented Edinburgh Central.
You can read Ricky's blog here.