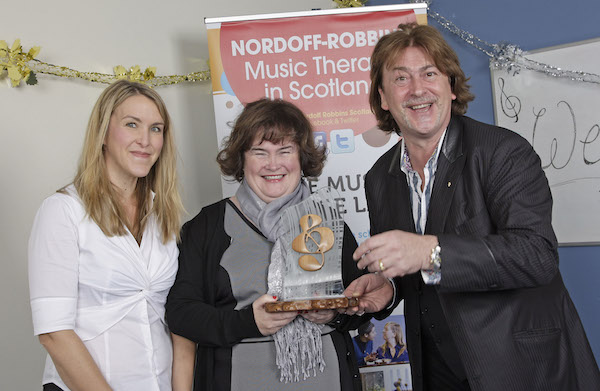 Singing sensation Susan Boyle was this afternoon officially honoured with the Fan's Choice Award from last year's Scottish Music Awards. The Britain's Got Talent star beat out an abundance of Scottish talent, thanks to votes from fans in 2013. She was presented her award today by Donald MacLeod, chairman of Nordoff Robbins Music Therapy in Scotland at their base in Broxburn where she also participated in a therapy session with some of the pupils.
The 2013 Fan's Choice Award gave the public the power to vote for their favourite Scottish artist. Fans voted for Susan from a shortlist of the biggest selling Scottish acts of the year, including Emeli Sandé, Biffy Clyro, Texas and Calvin Harris. However, it's not just Scotland who've fallen in love with Susan's charm, the West Lothian born singer has gathered a legion of fans all over the globe since she burst onto our screens in 2009.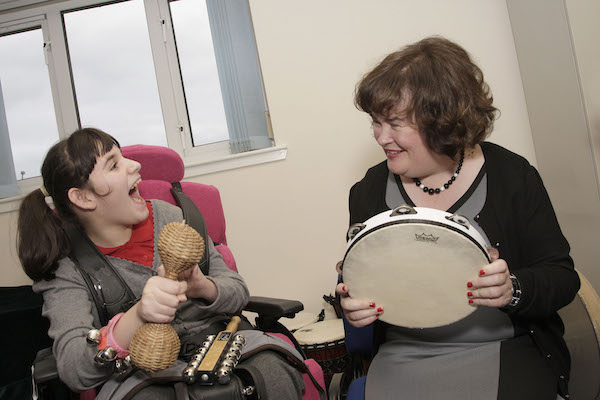 Susan Boyle is the definition of an overnight success. In perhaps the most famous TV talent show audition ever, she wowed judges Simon Cowell, Amanda Holden and Piers Morgan with her incredible rendition of 'I Dreamed A Dream'.  Susan instantly became a huge hit worldwide, with her first audition being watched on YouTube over 560 million times. Despite not winning the contest, Susan has gone on to achieve extraordinary levels of success. She has released six albums, three of which have hit the top spot in the UK and two in the US, amassing  record sales of over 23 million worldwide. The Scottish Music Awards celebrate artists who fly the flag for Scotland and there is no doubt that Susan is the perfect illustration of this.
Susan hasn't had the easiest of upbringings however, as she claims she was constantly teased as a child, 'I like a laugh, but I didn't like being the butt of a joke. All my life, I've had to fight to prove myself.'  Susan has Aspergers Syndrome, a mild form of autism. Being honoured by a charity that uses music to help improve the lives of autistic children and adults really means a lot to Susan, 'The work that Nordoff Robbins Scotland does is absolutely remarkable, to be acknowledged by the Scottish public is always heart warming, but the fact that it's in association with Nordoff Robbins Scotland makes this extra special."
Susan was today joined by children from Beatlie School in Craigshill, Livingston to accept her award. The school provides primary and secondary education for children with profound and multiple learning disabilities. Pupils Rowan Robertson, Vikki Cavanagh and Alana Cairns, who were in attendance today, benefit from the incredible work of Nordoff Robbins Music Therapy in Scotland today had Susan participate in one of the therapy sessions. Deputy Head Teacher, Debbie Green had nothing but praise for the charity, "We are always looking for meaningful and relevant activities in the community for our senior pupils so that they can be learning in a variety of contexts and environments.  Our link with Nordoff Robbins has provided such an opportunity."
The Scottish Music Awards acts as the largest source of funding for the charity Nordoff Robbins Music Therapy in Scotland which requires £600,000 a year to operate. The organisation uses music as a form of therapy to help enrich the lives of over 400 children and adults all over Scotland suffering from trauma, illness or disability. The fundamental belief of the charity is that everyone, no matter how ill or disabled has a response to music. The unique combination of music and therapy is revolutionary, allowing one's creative side to combine with other forms of therapy illustrates the healing powers that music holds.
Saturday 29th November saw Neon Jungle and Nicholas McDonald perform at the 16th annual Scottish Music Awards, and winners of the coveted Tartan Clef Awards went to Jimmy Somerville, Prides, Still Game and Prince, amongst others, for their services to the Scottish music industry.  The evening raised over £130,000 for the charity on the night, with auctions prizes being sold to the likes of Lorraine Kelly and DF Concert's Geoff Ellis.