Worbey & Farrell have teamed up with LifeCare, an Edinburgh charity in support of their work with the elderly, people with dementia and carers to hold a fantastic benefit concert.
Worbey & Farrell are musicians who live in Edinburgh – they have a unique piano act that they pushing the boundaries of the instrument using it to illuminate music of every style – classical, popular and contemporary.  Steven Worbey and Kevin Farrell, graduates of the Royal College of Music, made the transition from muted performers to showmen without ever compromising their music. In only a few years they have achieved over a million hits on YouTube, performed all over the world in their role as a solo act and with the world's leading symphony orchestras.
The concert is taking place at St Andrew's and St George's West Church, 13 George Street, Edinburgh. EH2 2PA on Thursday 27th November 2014 at 7.30pm (doors open at 7.00pm)
Tickets are £15 which can be purchased online www.lifecare-edinburgh.org.uk/events or at LifeCare, 2 Cheyne Street, Edinburgh. EH4 1JB    0131 343 0940
Concession tickets available for £12 but only direct from LifeCare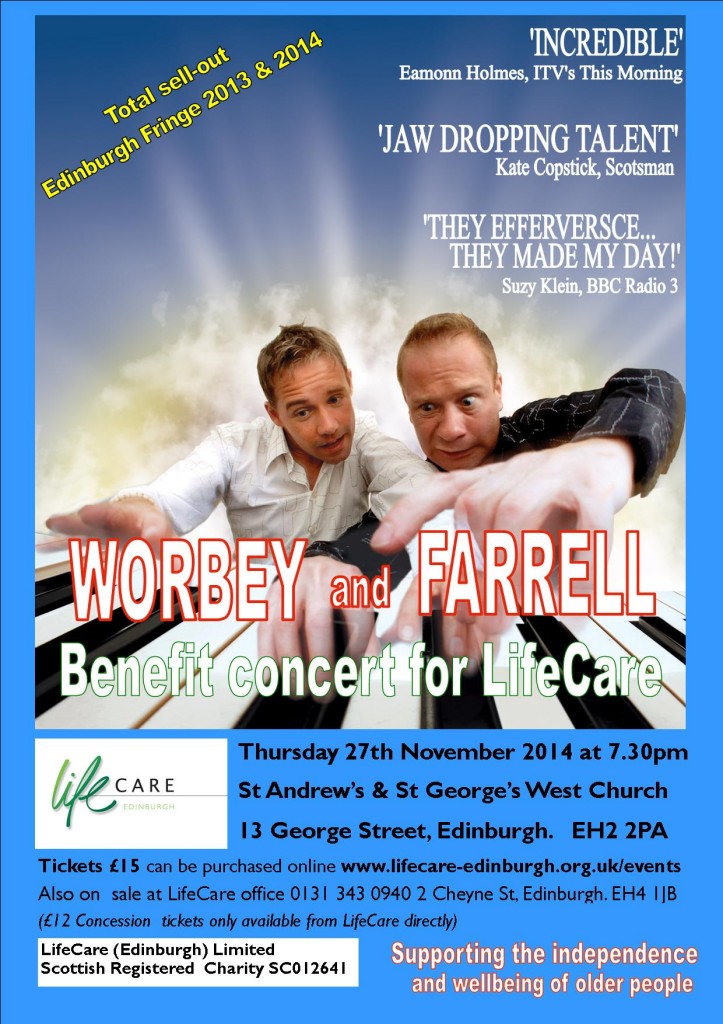 "This benefit concert is a very exciting and unique event by Worbey & Farrell" said organiser Vicki Bradley who is the Fundraising Manager at LifeCare.  "They come straight from their sell out month long Edinburgh Festival Fringe show to this sensational new show which will bring elements of previous shows to create a spectacular feast for the eyes and ears."
"Worbey & Farrell approached us through a mutual friend offering to help to raise money for LifeCare. We are absolutely thrilled to be working with them. Money raised from this concert willhelp support our work with some of the most vulnerable in our community and have a huge positive impact in their lives."
Drinks and snacks available at the bar. There is a raffle with fabulous prizes – not to be missed.
If you haven't seen a Worbey & Farrell show before be prepared to be mesmerised. If you have been to one of their shows, you know you are in for a real treat!
http://www.lifecare-edinburgh.org.uk/events/