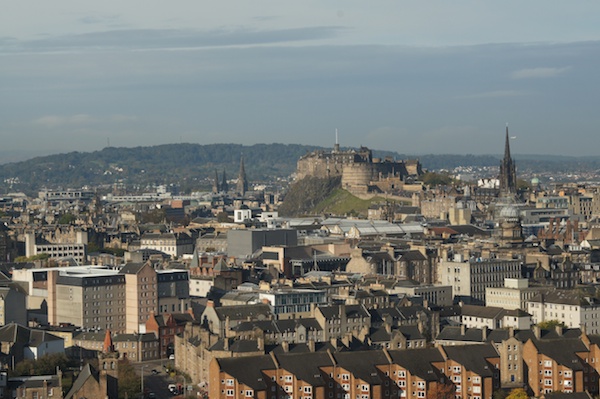 Firrhill Christmas Market: enjoy seasonal refreshments as you browse the fabulous stalls – crafts, gifts, cards, jewellery, cakes, decorations and much, much more….7.15-9.15pm, Firrhill High School, 9 Oxgangs Road. Entrance £2, under 12s free.
Previously….Scotland's History Festival starts today! Talks, discussions, walks, tours, song, theatre; celebrate Robert Louis Stevenson, hear about The Kaiser's Spy in Scotland, experience a mediaeval concert at Rosslyn Chapel, learn how to write historical narratives at the City Art Centre, and be part of history in the Grassmarket when Chris Rutterford incorporates pictures of locals and visitors into a 64′ outdoor mural. For details of these and many more events, see Previously's website. Festival ends 30th November 2014.
Writing Your Story, Writing History, with RLS Fellows J David Simons and Chris Dolan. Robert Louis Stevenson was a master of writing the past to create wonderful stories such as Kidnapped, The Master of Ballantrae and Treasure Island. To celebrate RLS Day, join this masterclass in writing narratives from the past, either through actual historical figures and events or through personal histories and memoir. 1.30-4pm, City Art Centre, 2 Market Street. Free, but places are limited and must be booked via eventbrite. Supported by Scottish Book Trust.
Amnesty International and Relief Theatre Present Even If We Lose Our Lives, exploring the difficulties faced by women in modern Afghanistan through the stories and words of Parween, founder of the only girls' school in Laghman province, Manizha, the American-raised organiser of a women's shelter, and Dr D, an anonymous gynaecologist operating in an unnamed province. Interviews were conducted by actor and human rights activist Christine Bacon. Each peformance will be followed by a short talk and Q & A session led by Amnesty activists and other guest speakers. All proceeds will go to Amnesty International. Please note: this play includes references to violence and domestic and sexual abuse. 8-9.15pm tonight and 14th & 15th November, Cairns Lecture Theatre, Summerhall, 1 Summerhall. Tickets £6/£5: book via Summerhall's website or at the box office (0131 560 1581).
Bookbug: 30 minutes of rhymes and songs for very young children. 10.30-11.00am, Oxgangs Library, 343 Oxgangs Road North.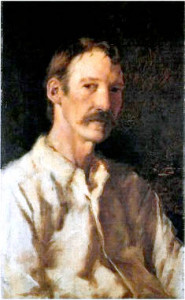 Robert Louis Stevenson All-Day Reading: the Robert Louis Stevenson Club journeys with the travel writing of RLS – backpacking, canoeing, hiking with a donkey, crossing the Atlantic and Wild West and sailing the South Seas. 11am onwards – drop in or stay all day, Scottish Storytelling Centre, 43-45 High Street. Free and unticketed.
Share A Story: storytime for the under-5s. 10.30-11am today and every Thursday, Morningside Library, 184 Morningside Road. No need to book – just come along!
Robert Louis Stevenson: Rare Pieces from the Collections: a chance to see rare material relating to RLS from the National Library's collections, including first editions and photographs. On display for a limited period today only. 11am-2pm, National Library of Scotland, George IV Bridge. Free and unticketed.
Gaelic Songs and Rhymes for children and babies. 10.30am, Leith Library, 28-30 Ferry Road. (Next session on 27th November at Blackhall Library.)
Tusitala's Colinton: tour Robert Louis Stevenson's Colinton following the new Poetry Trail, viewing the statue of a young RLS with the sculptor, and exploring RLS's haunts in the Manse garden. 11am-12.30pm, begins from Triangle Public Garden viewing point on Woodhall Road. To book call 0131 441 2537 or email ccct@colinton-conservation.org.uk.
Cafe Voices: Stevenson Stories. Join storyteller Peter Snow for an evening of RLS stories as part of the Storytelling Centre's monthly Cafe Voices session. 7-8pm, Scottish Storytelling Centre, 43-45 High Street. Tickets £5: book online or call the Centre's Box Office on 0131 556 9579.
Becoming Julie: My Incredible Journey – Julie Clarke launches her new book. Julie was born a boy in 1950s Scotland, but after battling her demons for many years she underwent transgender surgery in 2006 to become a women: her 'poignant, funny and always honest' book charts her struggles along the way. 6.30-8.30pm, Waterstones, George Street. Free tickets available in store: further details on 0131 225 3436.
Words and Deeds, Weapons and Wounding: Edinburgh University's exhibition Words and Deeds: Women, Warfare and Caregiving explores the often neglected and understated story of women in warfare and was housed at Surgeons' Hall Museum in 2013. Subsequently a new exhibition has been developed by the Museum to be displayed in conjunction with the original exhibition. Weapons and Wounding highlights the severity of injuries, exploring the progression of weaponry and the ever increasing need for new medical and surgical techniques to cope with wounding in warfare. 10am-8pm Monday to Wednesday, 10am-5pm Thursday to Saturday, Leith Library, 28-30 Ferry Road. Closes 29th November 2014.
Pass On a Poem: ' a chance to explore poetry in a beautifully bookish though wonderfully informal setting.' Read a favourite published poem aloud, or just come along to listen to a diverse collection at this live poetry event. No previous experience of poetry or reading live required! If you know what you want to read, email the shop with details and they will add you to the list.  6.30pm, Golden Hare Books, 68 St Stephen Street.
Royal Mile Walking Tour: Walking tour of the Royal Mile, from the Castle to the Palace of Holyroodhouse, led by Edinburgh Festival Voluntary Guides. 10am-12 noon, today and every day to 30th November 2014, starting from the foyer of The Hub. Booking is essential and tickets are £3/£1: contact George Laing on 0131 334 8490 or gklaing@aol.com. Part of Previously….Scotland's History Festival.
Live Music Now: Laura Margaret Smith (mezzo-soprano) and Geoffrey Tanti (piano) perform A Castle Mills Suite, a new cycle of songs by John Maxwell Geddes, commissioned as part of the World War One Centenary Art Commissions. 6-6.30pm, Scottish National Portrait Gallery, 1 Queen Street. Free and unticketed.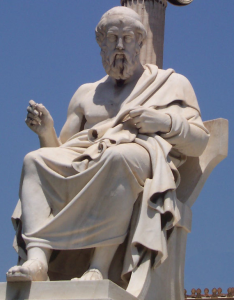 Censoring Creativity: From Plato to Bach. Professor Stephen Rose, Royal Holloway College, University of London, will speak on this topic in the University of Edinburgh's Music Research Seminars series. The talk will be followed by a Q & A session and a drinks reception. 5.15-6.15pm, Lecture Room A, 2nd Floor, Alison House, Nicolson Square. All welcome. For more information or any special access requirements contact a.c.davison@ed.ac.uk.
Generation DJ Set: Loops Haunt. Residing deep in the Scottish countryside Scott Gordon 'Loops Haunt' has been producing experimental electronic and audiovisual artwork since 2003. His sound often encompasses ineffable ambiences and rugged industrial sounds sculpted into structure. For GENERATION By Night, Loops will offer a site-specific set, responding to the artworks on display and the theme of GENERATION: 25 years of contemporary art in Scotland. 6pm, Scottish National Gallery of Modern Art ONE, Belford Road. Free and unticketed.
Artist Talk: Ross Sinclair. Ross will talk about the process of re-staging Real Life Rocky Mountain, before performing as part of it. 6pm, Scottish National Gallery of Modern Art ONE, Belford Road. Free and unticketed. Part of GENERATION By Night.
Portrait Gallery Insights: George Jamesone, Scotland's First Portrait Painter. Kate Anderson, Senior Curator at the Portrait Gallery, discusses the life and work of George Jamesone. Jamesone was a key figure in the development of portrait painting in Scotland; he was the first great native-born artist in a profession dominated by foreigners. 5.30-6pm, Scottish National Portrait Gallery, 1 Queen Street. Free, but places are limited and should be booked by calling 0131 624 6560.
The Drawing Room: an informal artist-led drawing session. Each session is developed by a contemporary artist and is inspired by the GENERATION exhibition, whilst also reflecting concerns in the artist's own work. All materials supplied: no experience necessary. 5.30-6.45pm, Scottish National Gallery of Modern Art ONE, Belford Road. Free and unticketed.  Part of GENERATION By Night.
Write On! a new free writing group for people in South Edinburgh who would like to try something new or develop their creative writing. A friendly, supportive group offering planned writing sessions, structured around prompts to kickstart your imagination. Interests in all kinds of writing, including poetry, prose and memoir welcome, as are people completely new to creative writing. The group is about writing for pleasure rather than critiquing writing styles. 3.30pm today and every Thursday until 11th December 2014,  Tynecastle Community Wing, Tynecastle High School, McLeod Street. Advance registration essential: contact Rose at Health All Round for more information: 0131 337 1376 or Rose@healthallround.org.uk.
Communities for Conservation: Food and Mood Workshop. Join this workshop to learn more about a healthy, balanced diet. A fun and interactive session looking at the role of fats, sugar and salt. 11am-1pm, ELREC (Edinburgh and Lothians Regional Equality Council), 14 Forth Street. Book your free place via eventbrite, email JGaunand@elrec.org.uk or call 0131 556 0441.
India in the Archives: The Royal Society for Asian Affairs India Collection. Renowned historian of colonial Lucknow Dr Rosie Llwellyn-Jones will present material from the Collection. 4-5.30pm. Sidney Smith Lecture Theatre, Medical School, Teviot Place, Doorway 1, Room 2.520, University of Edinburgh. One of a series of seminars arranged by the Centre for South Asian Studies.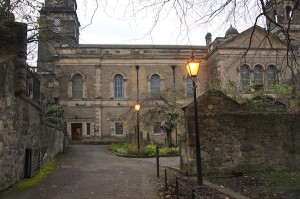 Ecumenical Friends at St Cuthbert's. Charles J Burnett: Heraldry – the Shorthand of History. Everyone warmly welcome; bring your own packed lunch, tea and coffee provided. 12.30-2pm, St Cuthbert's Parish Church, Lothian Road. £1.50 per person. Organised by Edinburgh City Centre Churches TOGETHER.
Kirk O'Field Coffee Morning: Edinburgh Food Initiative food co-op selling fresh fruit and vegetables, sale table with new and nearly-new goods – as well as teas, coffees, and the renowned bran scones and butteries! 10.30am-12 noon today and every second and fourth Thursday in the month, Kirk o'Field Parish Church, 140 The Pleasance.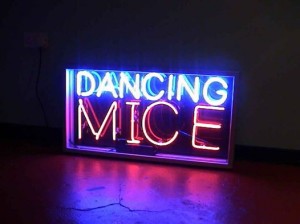 Dancing Mice Album Launch: 'Eroded takes in electronic pop, weird folk, psychedelia, and post punk, melding them into a quirky, erudite style with some cool pop hooks'. Plus guests Sacre Noir: Scottish-based electronica three-piece, and PAL: pop/new wave influences and songs in German.  7pm, Henry's Cellar Bar, 16a Morrison Street. Free entry.