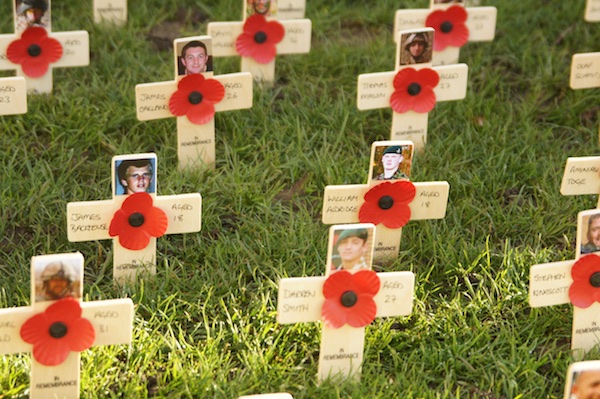 A further twenty war memorials across Scotland will be restored to their former glory after being awarded grants totalling £160,000, First Minister Alex Salmond has announced.
The money from the latest round of funding from the Centenary Memorials Restoration Fund will be used to repair and conserve the memorials.
The £1 million fund, announced by the First Minister last year, was set up as part of the Scottish commemorations to mark the centenary of the First World War. A total of £319,000 has now been distributed to 43 war memorial projects across Scotland so people can continue to remember those who fought and died for their country.
Scottish communities are still eligible to apply for the £1 million funding pot to ensure their local war memorials are a fitting tribute to those who paid the ultimate sacrifice. There are estimated to be 6,000 war memorials in Scotland. Up to 10 per cent of these may be in 'Poor' or 'Very bad' condition so there are many more projects which could benefit from grants.
The First Minister made the announcement at the Peebles War Memorial newly refurbished following a £22,000 grant. He was joined by local veterans, Rear Admiral Roger Lockwood of War Memorials Trust, Kevin Gray of Legion Scotland and Scottish Veterans Commissioner Eric Fraser.
The First Minister said:
"Scotland's war memorials are a lasting tribute to our fallen servicemen and servicewomen who paid the ultimate sacrifice in defending our country in the First and Second World Wars and other conflicts.
"Each Scottish war memorial, such as this one in Peebles, remind us of the futility of war and the losses endured by our local communities. They also provide people with a place to go and pay their respects.
"It is extremely heartening to learn that communities are benefitting from this fund to upgrade memorials, particularly as this year marks the centenary of the outbreak of the First World War and the start of our commemorations for years to come.
"Funding is still available and I encourage Scotland's communities to consider the state of their memorials and ensure their future care by using this money to carry out work on these important monuments."
Eric Fraser, the newly appointed Scottish Veterans' Commissioner said:
"I am in no doubt that current efforts to preserve war memorials, right across Scotland, are vital as we seek to preserve our history and acknowledge the sacrifices made by so many men and women during the conflicts of the past 100 years. We owe these people – from every walk of life – an enormous debt of gratitude for the freedoms they fought for.
"But we also need to acknowledge the contributions made by those veterans who still live amongst us, whether they served in WW2 or more recent conflicts of Afghanistan and Iraq. I believe we should challenge some of the negative and unfair perceptions of former service men and women, see them more readily as valued and valuable members of our community, and recognise the service they have done for our country. My role as Commissioner will be to promote these sentiments while ensuring that we continue to honour the service and sacrifice of those who have fallen in earlier wars."
Kevin Gray CEO of Legion Scotland, said:
"It's so important to honour the fallen on our memorials. This funding will be a welcome boost for communities to preserve their memorial for many years and generations to come. Every year Legion Scotland runs a Best Kept War Memorial competition across the whole of Scotland as part of its role as guardians of remembrance in Scotland. The competition which has run for the last forty years, recognises the efforts of communities who look after their war memorial. Memorials are an important social and historical landmark of so many of Scotland's towns and villages. The aim of our competition is to encourage awareness of war memorials and a continued high standard of maintenance by local authorities. We are also working with young people through our primary schools competition to encourage them to learn about the people on their local memorial and really bring to life what remembrance is truly about.
"The memorials help us to remember and pay our respects. They also give us an opportunity to reflect, and remember veterans who are living in our communities whose lives are changed forever. So that we never forget all those ex servicemen and women who came home, and what we still need to do for them and their families."
Frances Moreton, Director of War Memorials Trust said:
"Over the next few years it is vital efforts are made by people and communities to ensure that by 2018 Scotland's war memorials are in a fit condition for the services and commemorative events that will see us all mark the end of World War I on 11th November that year. 100 years on from the Armistice our tribute to the fallen should be to ensure their memorials are conserved and will stand to bear witness in another 100 years. As this batch of offers shows, this grant programme supports all conflicts including the 1815 Battle of Waterloo; we should be inspired to work together to make sure the memorials which cover 1915 mark their own bi-centenaries."
There are many Remembrance Day services across Edinburgh. This is Edinburgh has a list of where they are taking place here.