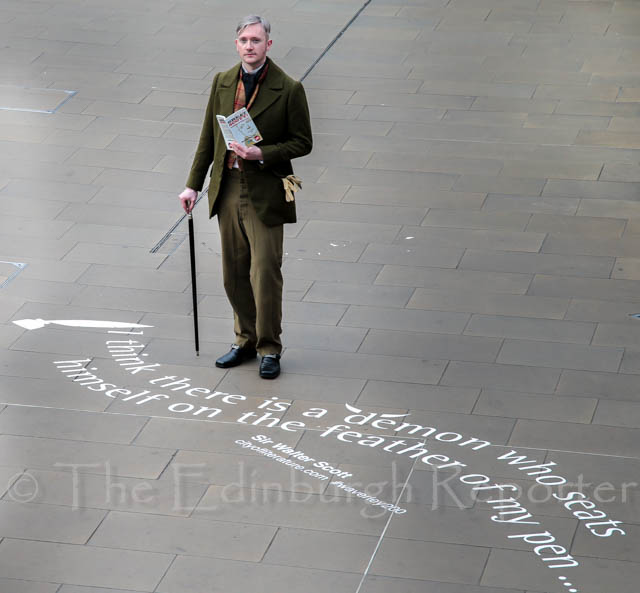 The Ross Fountain 
Cycling Hub at Hunter's Hall
Enter now for RNIB GLOW
Marie Curie charity shop challenge
Heavy Metal on Halloween
Today the council's Culture and Sport Committee will meet to discuss among other things the fate of the Ross Fountain in Princes Street Gardens.
The fountain was taken out of use about four years ago due to corrosion and water leaks. The council will hear that there are two options for its future both of which involve completely dismantling the structure which alone will cost £500,000.
One option which the council believe would last for just 25 years would cost another £800,000 but the longer term option which might last for another century would cost a further £1m. Whichever option is used the council feel that funds would have to be raised to pay for the costs after the fountain is dismantled.
The fountain is one of only two A listed cast iron fountains in the UK from the world famous foundry of Antoine Durenne, in Sommevoire Haute Marne in France. The Fountain is a magnificent example of 19th century cast-iron work, in the neoclassical style commonly known as Beaux Arts.
The figures were sculpted by Jean-Baptiste Jules Klagmann, born April 1810, whose other work includes figures for the Louvre and fountains in the Luxembourg Gardens in Paris.
The Fountain was purchased by an Edinburgh gunsmith, Daniel Ross, at the Great Exhibition of 1862, and eventually installed in its present position in 1872. Since then the Fountain has become one of the most recognisable features of Edinburgh.
The Fountain's significance is attested by some of Scotland's leading architectural heritage experts, including Historic Scotland's Director of Conservation who said it is 'the best cast iron fountain to be found in Scotland' and the Director of the Edinburgh World Heritage Trust who described the fountain as 'an ebullient concoction of seahorses, lions heads and figurines' which is the 'only public fountain of any note'.
***
The council want to know what you think about their proposal to put in a cycling hub in Craigmillar at Hunter's Hall Park. They want to use it as a training ground for cyclists to gain confidence in a safe setting before venturing out onto the roads. What do you think?
The plans may include an outdoor velodrome, a BMX track, closed road circuit and a cycle speedway track. Fill in the survey by clicking this link here
***
Next week, hundreds of people will take part in a fun run with a difference to raise money for blind and partially sighted people.
RNIB Glow, sponsored by AIG, is a 3km fun run taking place after dark this weekend in  Edinburgh, inspired by the colourful full moon parties of Thailand. Participants can run, walk or even dance their way around the track under the UV lights whilst being sprayed with luminous colourful paint along the way.
There is still time to sign up. RNIB Glow is open to anyone over the age of 10 and is fully accessible to blind and partially sighted participants. RNIB Scotland can also help to organise guide runners for anyone who needs one.
It costs £10 to register, and all participants are asked to raise a minimum of £25 sponsorship (£15 for students, £10 for children). Visit www.rnib.org.uk/glow to find out more and register.
RNIB Glow events are also taking place in Edinburgh's Meadowbank stadium on Saturday [October 25].
Every 15 minutes someone begins to lose their sight, it can happen to anyone at any time. All money raised from RNIB Glow will help RNIB provide practical and emotional support to everyone affected by sight loss.
***
Marie Curie Cancer Care fundraising staff are ditching the day job in an Apprentice-style Shops Challenge at four of the Edinburgh Marie Curie shops this Thursday.
19 staff, divided into four teams will compete at Corstorphine, Morningside, South Bridge and Nicolson Street. The teams are challenged to generate extra stock, help raise the profile of the shop locally, recruit new volunteers, attract more customers and ultimately create the greatest increase in the shop's takings on the day. As well as competing against each other in Edinburgh they'll also be up against colleagues in teams across three shops in Northern Ireland.
All profits raised from the Edinburgh challenge will help provide free nursing care and support for terminally ill people and their families at home in the Lothians and at the Marie Curie Hospice, Edinburgh at Fairmilehead.
The winning team from Edinburgh or Northern Ireland will be announced on twitter (www.twitter.com/MarieCurieSCO) at 4pm, with updates proceeding throughout the day.
Marie Curie Corporate Development Manager Paul Cockram said: "Each team is determined to win the challenge and is going all-out to impress our retail staff and volunteers who will be awarding bonus points. We'd love to see support from the public on the day; it's promising to get competitive but will be a lot of fun for everyone."
Marie Curie Regional Shops Manager Mairi Kelly said: "We wish them the best of luck and hope that locals will pop down, meet our new team for the day and show their support by shopping with us or donating any unwanted good quality items."
***