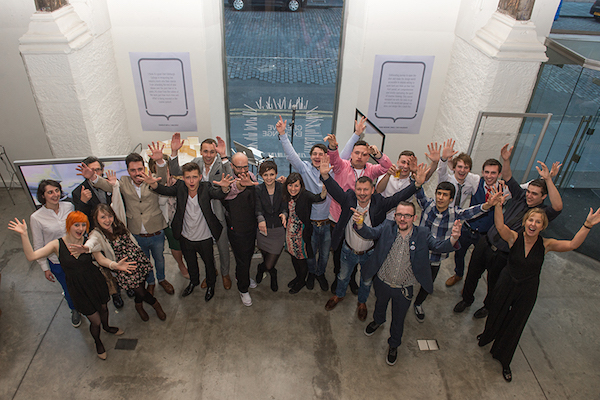 The HND Visual Communication: Graphic Design team from Edinburgh College has triumphed at this year's Scottish Event Awards to take home the title of 'Best Educational Event' for its 'Say 2014' graduate show.
The award recognised the team's hard work for presenting the work of its students to as many prospective employers as possible in an exciting and original manner. The result was a one-off evening event which not only highlighted the work of the final year graphic students but also provided the course team with an opportunity to showcase the work they do with employers as part of the college's award winning Mentoring Programme.
More than 140 industry professionals from 55 organisations attended the event, more than in any previous year.
Graphic Design lecturer Helena Good said: "We are always looking for effective ways to present the work of our students and our approach of creating one stand-out evening, as opposed to a week-long event, was a tactic that was really well received by both our professional contacts and students. There was a real buzz amongst our graduates about having just one chance to make a good impression with potential employers.
"We worked really closely with our industry contacts, such as Cutty Sark Whisky and paper specialists GF Smith, to bring the event to life and it worked so well that we're hoping to follow a similar format next year.
"A big thank you goes to everyone who helped make the event a success, especially our students for all of the fantastic art work they displayed."
Alan Lennon, creative director of Lennon Design and industry mentor for the Visual Communication: Graphic Design course, said:  "It was a privilege to work with the talented students from the HNC course in the planning and execution of their graduate show event. The process, discipline and professionalism they all demonstrated throughout is a testament to the quality of the design course and high level of tuition they receive. This prestigious award win is a fitting recognition."
The award ceremony was held at the Creative Exchange in Leith, a hub for creative entrepreneurs run as a partnership between Edinburgh College, City of Edinburgh Council and Creative Scotland. As well as 80 workspaces, meeting rooms, broadband and business support, Creative Exchange has a gallery and events space, which is where the award-winning event was held.
In addition to the Graphic Design team taking home the 'Best Educational Event' award, a group of HNC Events Management students were runners up at the awards for the 'Best Student Event' for their Tropical Escape activity.
The imaginative programme of events, which saw the students transport guests to a tropical paradise in the city with the help of fruit headpieces and put on limbo competitions, was part of their coursework which also saw them raise £5,000 for the Scottish Society for the Prevention of Cruelty to Animals (SSPCA) and children's charity When You Wish Upon A Star, in the process.