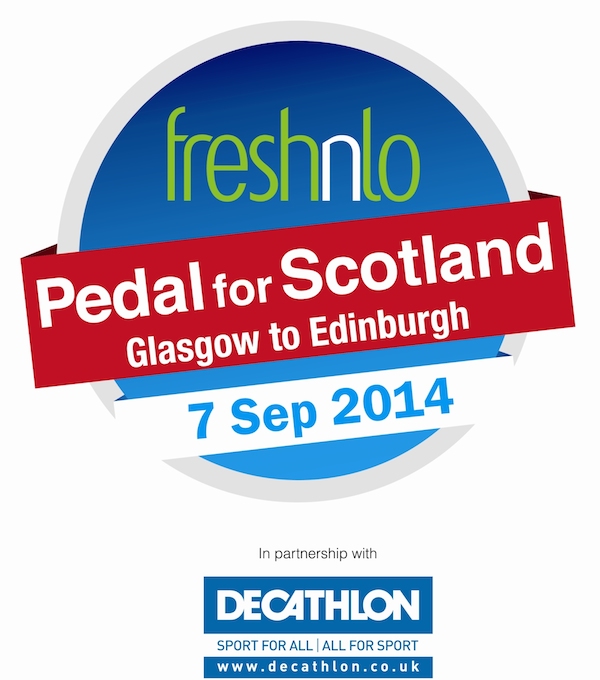 People from around Edinburgh are being encouraged to sign up for the freshnlo Pedal for Scotland Challenge ride between Glasgow to Edinburgh which celebrates its sixteenth year this Sunday. Around 12,000 people from across Scotland make up the 12,000 riders who annually take on Scotland's biggest cycle challenge.
As well as the iconic 47 mile Glasgow to Edinburgh Challenge ride there is a timed 110 mile Sportive for the more experienced rider. Building on the success of the traditional nine mile Edinburgh Family Ride, freshnlo Pedal for Scotland has introduced a new four mile route – The Edinburgh Circular Ride.
Last year over 400 riders from Edinburgh and surrounding areas saddled up and took part in the nine mile family ride which starts at Kirkliston Leisure Centre and finishes at Murrayfield stadium. This route allows riders of all ages and abilities to join in the last nine miles of the main freshnlo Pedal for Scotland 47 mile ride which starts in Glasgow Green, before crossing the finish line together at the iconic Murrayfield stadium.
The new Edinburgh Circular Ride covers a four mile almost completely traffic free loop, starting and finishing at Murrayfield Stadium using cycle paths and quiet residential streets. The circular route has been introduced due to the popularity of the initial Edinburgh Family Ride and to make the event more accessible for first time riders and those with younger children.
Participants can raise money for children and young people in Scotland affected by poverty by supporting the event's official charity partner, the STV Appeal.
Keith Irving, chief executive of Cycling Scotland, said: "This is a huge year for sport and in particular  September will be a huge month for cycling.  After a summer watching some of the best athletes in the world, freshnlo Pedal for Scotland gives people the opportunity to get on their bikes and take part alongside thousands of others. There are various pre-event transport options and I look forward to welcoming cyclists from all over Scotland on 7 September."