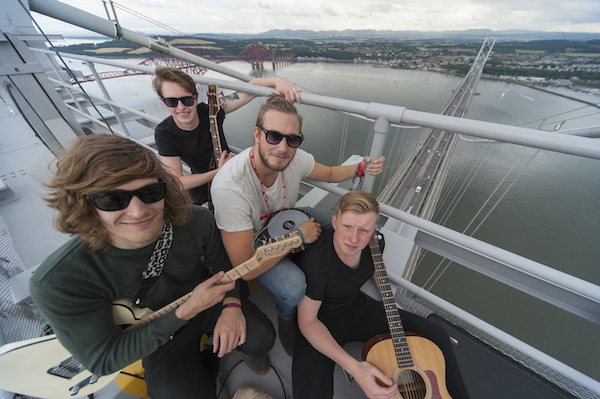 Bwani Junction have scaled the heights of the Forth Road Bridge for a final sound check before playing the finale of the Forth Bridges Festival this Saturday.
The finale, which brings to a close the 10-day Forth Bridges Festival – a key part of the Homecoming Scotland 2014 calendar – will include music from the local band playing alongside legendary Scottish rockers Big Country and a whole host of Scottish musical talent.
The unique and spectacular event will see 2,014 people form a kilometre long river of fire across the famous structure, before a fireworks display lights up the Bridge as never before.
Party-goers will enjoy a range of first-class food, drink and entertainment on the night, as well as the best views of the once in a lifetime fireworks display, before concluding the memorable evening with a giant outdoor ceilidh – 'The Forth Fling'.
Only 2,014 tickets, priced £23 plus booking fee, are available to take part in both the Torchlight Procession and the Bridge Party. Additional tickets are also available for the Bridge Party only, priced £13.50 plus booking fee.
For safety reasons the Torchlight Procession will be restricted to over-16s only. The Bridge Party will be open to all ages but under-16s must be accompanied by an adult.
No local parking will be available at the event or in the surrounding area, so free shuttle buses are being provided for all ticket-holders from a choice of locations both north and south of the Forth.
Tickets can be purchased via the Forth Road Bridge website at www.forthroadbridge.org.