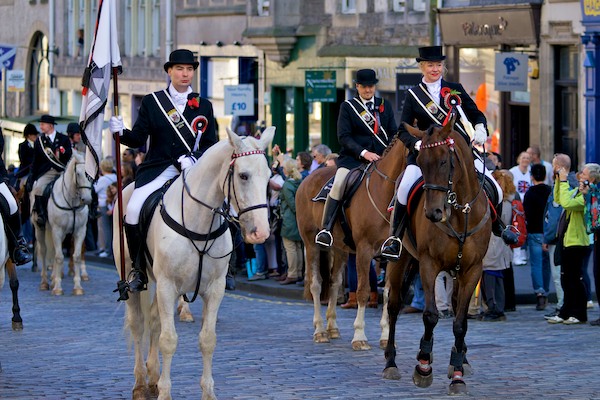 The Edinburgh Riding of the Marches is led by the Edinburgh Captain and the Edinburgh Lass. This year the Captain is Stuart Mitchell and the Lass is Kay Robertson. The 1st Officer is John Baxter and 2nd Officer is Steve Cairns.
The Lord Provost entrusts the Edinburgh Captain with the City Of Edinburgh Banner and they are both supported  by the 1st Officer and the 2nd Officer.
To become Captain, an individual must first serve a year in each of the 2nd and 1st Officer roles. These are supporting roles for The Captain and Lass.
They ride the city boundaries or marches from Gilmerton to the Mercat Cross where the Lord Provost takes the City of Edinburgh Banner back into safe keeping.
It is quite a spectacle as you can see!