The Signet Library just off the Royal Mile is one of Edinburgh's most beautiful buildings and usually a well-kept secret. That is until the Pommery bar pops up in August serving champagne, afternoon teas, sharing platters and of course fresh grilled lobster with wedges! Steeped in history, The Signet Library is an impressive building. Described by King George IV as "the finest drawing room in Europe" making it the perfect location for this sophisticated pop-up dining café.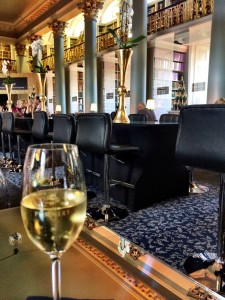 There really is nothing better than popping in for a glass of perfectly chilled fizz en route to the Opera, before you head to the Book Festival square, or before you go and see a rip roaring comedy extravaganza at one of Edinburgh's multitude of summer festivals. You can even sit outside if the weather is behaving and soak up the buzzing atmosphere of the Royal Mile.
As I mentioned before it's not just the fizz that makes this such a great pop up but the fabulous food on offer too – they have a good selection of hot and cold soft drinks including speciality teas and coffees, beers from Knops brewery in East Lothian, wines and a selection of home baked cakes and scones and show stopping afternoon teas piled high with sweet and savoury delights and of course a glass of champers if you wish.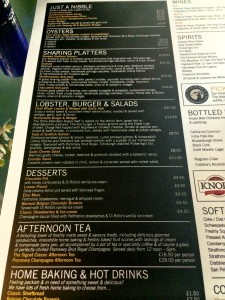 We went to investigate this year's Pommery bar on Monday evening before going to see a show at the Assembly just five minutes' walk away. They have a selection of champagnes from Pommery and also offer a tasting flight which gives you the opportunity to try all of the options before deciding on your favourite tipple. We decided to jump in the deep end and order a bottle of the Brut Rose (£65) as a special treat.
The sharing platters are a great option and would be perfect for lunch featuring a meat antipasti, vegetarian selection and a seafood option. Two of us decided to share the seafood platter (16.50) which was a generous sized portion including beetroot cured salmon, Belhaven smoked trout pate, Shetland smoked salmon, soused mackerel, dill sauce and a selection of oatcakes and bread. The beetroot salmon had a lovely flavour, the pate zingy and light and the sauces went really well, plus home-made oatcakes are always a winner for me! My partner tried the oysters (£4) which were served with a gin, coriander and pink peppercorn vinegar which was fabulous.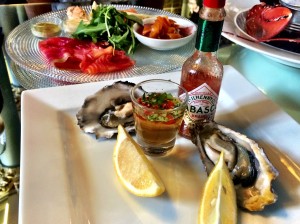 For main courses we were feeling rather decadent and ordered the sweet & succulent whole fresh lobster with garlic aioli & potato wedges (£30 with the online discount voucher or £37.50 full price) – heaven if you are a seafood lover like me. Huge fun was had breaking into the claws to dig out the meat and dip it in the mayonnaise not the most elegant of eating adventures but it was fun! Our friend was tempted by the Pommery Burger and home-made wedges (£14.50), which had smoked cheddar on it and served in a brioche bun as all good burgers should be.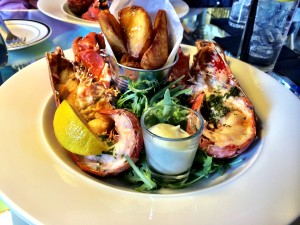 Desserts feature some true classics including strawberries and cream and lemon posset which were sublime (yes I tried them both!), the boy had a chocolate brownie with ice cream and judging by the speed it disappeared I would say it was a hit.
As the sun goes down, the Pommery Bar is transformed into an evening venue with stunning lighting and a disco ball adding to the fun of the festival. Definitely a must do for this summer and the perfect place to celebrate – but be quick its only here for August!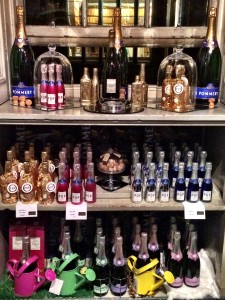 Check out the fantastic offers at Pommery Bar this month or head along to one of their special events including:
Champagne Tutored Tasting – Sara Hicks, UK Ambassador Pommery Champagne
13 / 14 / 15 August – 5.30 pm / 7 pm. This event is a unique experience for champagne lovers or novices alike. Engaging and energetic tutored tasting of four seasonal Pommery champagnes from Sarah Hicks, followed by sharing platters and a further glass of champagne in the cafe bar.
Chocolate, Whiskies and Cocktails – Annabel Meikle – The Whisky Belle
10 / 17 / 24 August – 2 pm. A luxurious experience for an indulgent Sunday afternoon, this is an engaging interactive introduction to whisky. Taste two whiskies and two whisky cocktails showcasing The Famous Grouse family, paired with exquisite chocolates from The Highland Chocolatier.
Four Beers and a Burger – Meet the Brewer – Knops Beer Company Ltd
4 / 11 / 18 August – 7 pm. The Pommery Bar serves brilliant artisan beers from local lads Knops Brewery. Sample the beers and meet the brewer, hear the tales behind the ales and enjoy one of our superb Pommery Burgers.
Single Malt Sundays- Annabel Meikle – The Whisky Belle
10 / 17 /24 August – 5 pm. Take a journey around Scotland in a glass. Sample four regional single malt whiskies and be expertly guided through the variety of styles. Enjoy a selection of Scottish tapas bites made to enhance the experience. Perfect for sharing with friends.
Royal Edinburgh Military Tattoo Ticket & Dinner Package – book quick as the rest of the Tattoo tickets have sold out! (or enter our competition here before 5pm on Thursday 7 August 2014!) 
Why not enjoy a pre-dinner Pommery Champagne Cocktail and three course meal before enjoying the Royal Tattoo? The ticket and dinner package starts from just £75 per person and is an ideal way to entertain clients, staff or friends. Book via www.heritageportfolio.co.uk
For the latest news and offers follow @PommeryBar on Twitter or Facebook or visit www.thesignetlibrary.co.uk/pommery-champagne-cafe-bar. Fringe tickets can be bought online at www.edfringe.com.