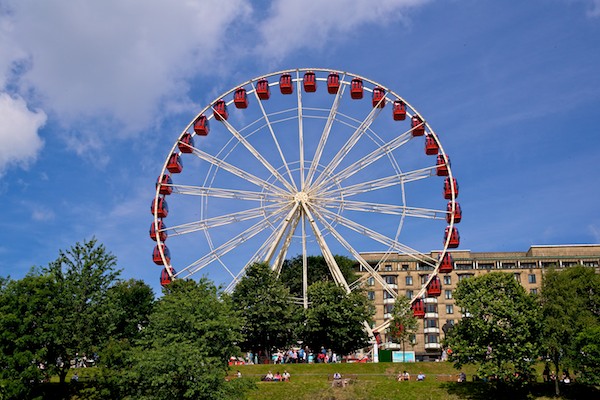 SATURDAY 2ND AUGUST 2014
Celebrate Wester Hailes! Come and celebrate the Games and our community in this free and fun gala event. Bouncy castle, face painting, stories, songs, local and international food, Commonwealth ceilidh, performances, exhibitions, local groups including SCOREScotland, Dads Rock, West Edinburgh Majorettes and Edible Estates. 12 noon-3pm, WHALE Arts Centre, 30 Westburn Grove.
Nature Play for Families: enjoy some nature play activities and find out about RBGE's Nature Play conservation project that is helping young children to love nature. With the Conservation Volunteers. 11am-4pm, Demonstration Garden, Royal Botanic Garden, Inverleith Row.  Free.
Hare and Tortoise: a performance of Licketyspit's new production, followed by a Bun Brothers Tea and Hare and Tortoise racing about in the beautiful garden. 2pm, North Edinburgh Arts, 15a Pennywell Court, beside Muirhouse Library, Pennywell Road. Free.
Wiff Waff Special – a recreational, intergenerational monthly table tennis night – is holding a special community table tennis day today. 11am-4pm, Out of the Blue Drill Hall, 36 Dalmeny Street.  All welcome, free.
Stop thief! Emma Rushton and Derek Tyman discuss their work Flaghall, a space of potential multiple uses. In the Where Do I End and You Begin exhibition it becomes a reading room where texts, talks and performances are brought together. 12 noon, City Art Centre, 2 Market Street. No booking required. Part of Edinburgh Art Festival.
Lunchtime concert: Sundown Swing from Huddersfield, West Yorkshire. 12.15pm, St Giles' Cathedral, Royal Mile.
Romans at Cramond: go back in time to when Roman legions were stationed at Cramond, and make your very own centurion costume. Family event with Mike Durnan. 10.30am-12.30pm, Lauriston Castle, 2a Cramond Road South. £5 per person, bookings must be made via Usher Hall Box Office, in person, by phone or online.
Artist talk: Katie Paterson. Paterson, whose practice is cross-medium with a focus on nature, ecology, geology and cosmology will talk about her exhibition Ideas, including her works Fossil Necklace and Second Moon.  11am, Ingleby Gallery, 15 Calton Road.  Free but please contact the gallery to book your place. Part of Edinburgh Art Festival.
Fun Family Gardening Sessions: Container Gardening. Where can you grow if you don't have much space or soil? Come along and make cheap, fun planters out of recycled materials, and get started growing in them.  For all ages, but children under 8 must be accompanied.  Wear old clothes and bring waterproofs if it looks like rain. 10am-12 noon, North Edinburgh Arts, beside Muirhouse Library, Pennywell Road.  Free, and mid-morning snack provided.
Danie Mellor: in Conversation. Award winning Australian artist Mellor discusses his new exhibition Primordial: SuperNaturalBayiMinyjirral at the National Museum of Scotland with Dr Alison Bracker (Royal Academy, London.) The exhibition explores Mellor's own indigenous and European heritage and suggests ways of appreciating the complex intertwined narratives of Scotland and Australia. 2-3pm, National Museum of Scotland, Chambers Street. Free but please book via the Museum's website. Part of Edinburgh Art Festival.
Portrait Gallery Thematic Tours: this month Susanna Kerr, former senior curator, explores the background to the significance of tartan in portraiture. 2-2.45pm and 3-3.45pm, Scottish National Portrait Gallery, 1 Queen Street. Free and unticketed.
GENERATION tours at Modern One: free, discussion-led tours of the GENERATION exhibition, focusing on key themes and artists. 11-11.45am and 1-1.45pm, Scottish National Gallery of Modern Art ONE, Belford Road.  Free and unticketed.
Gayfield Creative Spaces: new exhibitions. Gayfield opens new exhibitions today: India Street, Making Well – Fragments (click on the titles to see our articles about them) and Garden Party, in which the imagined grounds of a summerhouse are the setting for a contemporary design twist on a garden party.  This exhibition features works (available to purchase) from leading makers from Scotland and Holland. All exhibitions open 11am-6pm Thursday to Sunday until 11th September 2014.
August Works on Paper: 'august' – impressive, inspiring awe and admiration. A mixed exhibition of paintings, drawings and limited edition prints by artists including Bob Dewar and Jim Dalziel. 10am-5pm, Monday to Saturday, Doubtfire Gallery, 3 South East Circus Place. See our review of Bob Dewar's recent solo exhibition at Doubtfire here.
Coburg House Summer Open Studios: over eighty artists and makers will open their doors to the public to allow exclusive access to their studios. 11am-6pm today and Sunday 3rd August. Coburg House, 15 Coburg Street.