From the gorgeous and covetable furniture of Garden Party to the comntemplative and exquisite ceramics of Fragments and the historic and colourful textiles of India Street, there is much to enjoy at Gayfield Creative Spaces' new exhibitions.
India Street: The Bombay Sample Book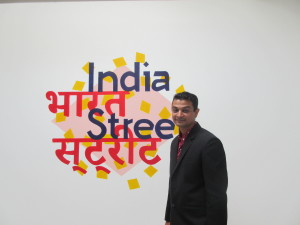 Did you know that chai wallahs hang chillis from their tea carts to ward off evil spirits? This is but one of the many interesting facts to be learned at Gayfield Creative Spaces' new summer exhibitions. India Street displays artists' responses to the Bombay Sample Book and discusses the close relationship between a vale in Dunbartonshire and a country many thousands of miles distant. The Edinburgh Reporter has already written about this fascinating project, the brainchild of Gayfield Creative Director John Ennis and Curator Katy West, here.  Now the exhibition is open to the public, and a visit is highly recommended.
John Ennis first experienced India in 1998. Calling on a friend in Ahmedabad, he visited the Calico Museum and 'My senses went into overdrive – the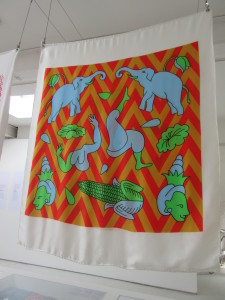 vibrancy of the colours, the intensity of every back-story and the delicious chai from the vendor at the gate.' In 2013 John met Katy West at The Lighthouse in Glasgow; Katy had just returned from  a British Council trip to Ahmedabad.  India Street grew from this chance encounter.
In the calm white space of g1 this international design collaboration features the work of both Indian (Delhi, Ahmedabad) and Scottish (Glasgow) artists.  Glorious colours are the backdrop to traditional drawings of birds, elephants and even some dancing legs; other artists have chosen to work digitally.  Charlotte Linton's Gandhi in Darwen is perhaps particularly noteworthy; it depicts the Mahatma's visit to Lancashire in 1931.  As a mill town, Darwen was one of the many places to suffer when India introduced a boycott of British goods as it struggled to gain independence.  Although local people remembered Gandhi as unfailingly polite and kind, he was able to offer little hope to the textile workers, saying to one of them 'My dear, you have no idea what poverty is.' By the time independence came in 1947, the UK weaving industry was in terminal decline.
And back to the chai (because we all know how important the refreshments are…) Local potter Alistair Dearie
has made terracotta cups in the style of those used on every street corner in Indian cities.  They are traditionally made from the clay of local rivers, baked on open fires, used once and thrown away – they dissolve back into the earth in a perfect cycle of use and re-use. Alistair has created slightly more robust versions but still followed the Indian practice of throwing them very quickly with no additional turning, though he has fired them at a high temperature and given them a slip glaze to make them last longer. Lokesh Ghai (pictured, top), one of the talented contributors to India Street, kindly offered me some tea and I must say the experience of drinking from these little cups is quite different from that offered by a Scottish take-out.
Making Well: Fragments
As a former doctor John Ennis has always believed that our wellbeing is inextricably linked to our surroundings. 'We know intuitively that the spirits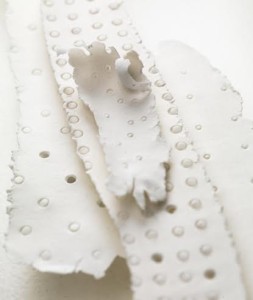 are lifted, stress is reduced and healing is enhanced by the act of making and by environments that are aesthetically pleasing: rigorous research in the area of design and  health confirms this.'
Carol Sinclair is a ceramic artist who explores the importance of memory and issues surrounding memory loss and Alzheimer's. Carol's exhibition in g2 displays ethereal fragments of white porcelain from which she pushes out tiny holes, sometimes also layering one piece over another to create subtle shading. Carol, a graduate of Gray's School of Art who works from a studio in Patriothall here in Edinburgh, explains that the pieces might represent the memories that we lose and those we retain.  Even the memories we do hold on to are affected by the layers of subsequent experience; no-one can ever be sure that a memory is accurate – but what is 'accurate' in this context? Carol's beautiful Trickle Bowl reminds us that sometimes the more we seek to capture and retain memories, the faster they seem to disappear – the bowl looks like a container, but it is perforated with escape routes just like our minds.
Victoria Claire Bernie's accompanying film shows Claire at work, her hands gently shaping the pieces and showing us that though we might try to impose shape on our thoughts, the materials, be they clay or memories, will retain their own qualities; we can work only with them.
g2 provides a quiet space in which viewers can take time away from the hurly-burly of the festivals to contemplate their own connections.
Fragments has also been developed into a digital book for iPad and android tablets by Colin Usher of East Lothian partnership Coffee Table Digital. The iPad app can be downloaded from Carol's website.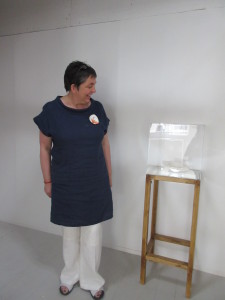 Garden Party
In g3 Gayfield celebrates design in a European context, marrying stunning pieces from Scotland with equally impressive work from Dutch designers. There is also an emphasis on resource efficiency and recycling: Piet Hein Eek's striking dining table appears to be made from shiny white tiles but is in fact constructed from plywood, simply layered and painted to great effect. Geoffrey Mann's beautiful ceiling light was inspired by the flight of a moth round a bulb – again appearances are deceptive, as what looks like a hand-made sculpture has actually been made on an industrial 3-D printer.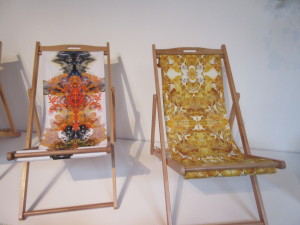 Award-winning Glasgow studio Timorous Beasties, established by Alistair McAuley and Paul Simmons in 1990, display desirable deckchairs showcasing their unique fabrics and highly diverse patterns. Grand Blotch Damask (on the left in the photo) is a fabulous take on a traditional design, its deep blues overlaid with bright orange and mossy greens.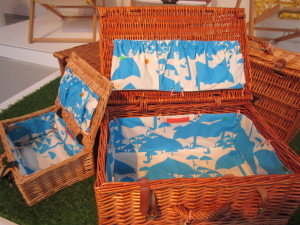 Laura Spring was once a Timorous Beasties' apprentice: now she has her own label with striking prints whose subject matter is designed to complement the objects they adorn.  Here she shows upcycled picnic hampers lined with a jolly blue and white fabric – the pattern consists of randomly arranged parasols (or could they be umbrellas?…)
For me, the star of this party is Piet Hein Eek's wonderful cupboard, made exclusively from scrap wood painted in calming natural colours. The yellows, whites and soft dusty blues of the drawers and doors working well with the plain wood frame.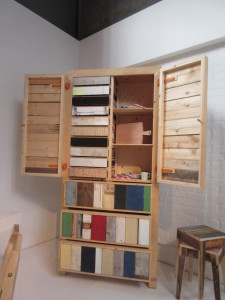 Everything in Garden Party is for sale, and a percentage of the proceeds will go to three Edinburgh charities with which Gayfield is associated: Artlink, The Art Room and The Yard.
John Ennis has dedicated Garden Party to his parents, Vina and Harold Ennis, 'forever inspiring.'  The same can be said of all three of these superb, engaging exhibitions: another triumph for Gayfield.
India Street, Fragments and Garden Party are all open 11am-6pm Thursday to Sunday until 11th September 2014 at Gayfield Creative Spaces, 11 Gayfield Square. Gayfield is currently running a series of Twilight Talks between contemporary designers, curators and researchers, exploring the role and context for design in contemporary Scottish cultural life.  All talks are free and open to all; places can be booked via eventbrite.  The next one is at 6pm on Thursday 14th August at Lyon & Turnbull in Broughton Place: Piet Hein Eek will discuss The Ecology of Design with Amanda Game, independent curator and Gayfield's Creative Advisor.