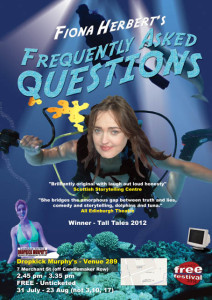 Venue: Dropkick Murphy's, Venue 289.                 
Dates: 31 July – 23 Aug (not 3,10, 17)                     
Time: 14:45 (ends 15:35)                                          
Frequently Asked Questions is Fiona's attempt to purge herself of annoyance by burdening the audience with it instead, under the guise of stand up comedy. Having watched her own face crying whilst being dumped on Skype, Fiona realised that throughout her life she has wasted time on the wrong type of people, the wrong type of work and the wrong type of play. She explores the convenience of online boyfriends and the inconvenience of real ones; the frustration of having to teach children without recourse to violence ( a job left for the  greyer grass of entertaining the slightly dead); and various attempts at serenity which have  always  ended in tears,  vomit, or a  dolphin induced hairline fracture. On an even more sombre note, she also shares the heartbreak of losing her best friend. To yoga.
Fiona Herbert is an award winning storyteller, being the first woman to win the national Tall Tales  Competition in 2012.  This makes her an Oscar winner, as the prize was a gnome called Oscar. She has regularly appeared both as guest and as guest host at  Jo Caulfield's Speakeasy,  a monthly sell out show featuring comedy, stories, music and magic at the  Netherbow Theatre, Edinburgh. She has told tales on radio and television, in Scotland and abroad. Frequently Asked Questions is her first solo stand up show.
Tickets: FREE. Unticketed.