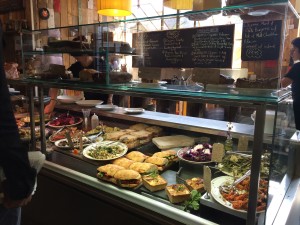 Oh I do love Earthy!  For those of you who may not have been yet or do not know Earthy began back in 2008 with its founders decided to share their love of good food, eating locally, seasonally and organically, and growing your own. The idea behind Earthy is a 'neighbourhood hub' combining the elements of a food market and farm shop, deli and restaurant serving fantastic seasonal local and organic produce with a warm and very chilled out vibe.
There are three Earthy market stores: Causewayside, Canonmills, and Portobello. The shops are brimming with the best and tastiest local, seasonal and organic produce, food and drink from over 100 local producers, as well as supporting artisan producers, fair-trade growers and co-operatives from further afield.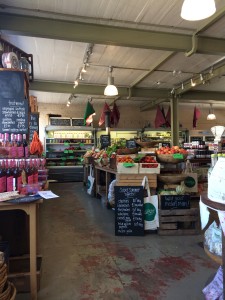 Both shopping and eating at Earthy is such a lovely, convivial and relaxing experience whether you sit inside or out in the herb garden. Living near Causewayside we frequent that shop more than others but have to say the dinner menu at Canonmills is excellent and very well priced.
The venue operates an all day café style menu (and shop) serving breakfast from 9am 7 days a week (10am on Sunday) until 6.00 or 7.00pm depending on the day. They do a great avocado and chili on sourdough bread for breakfast and good bacon rolls.
So on to lunch in the beautiful Scottish sunshine this week at Earthy Causewayside. They have extensive outdoor seating both immediately out side the building and in the back yard surrounded by plants for sale. All the outdoor spaces and the conservatory area are dog friendly but the man restaurant is not. When the sun is shining you cannot beat relaxing in the yard surrounded by herbs and flowers.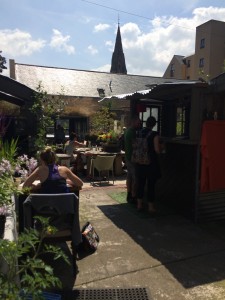 At lunchtime they have a huge selection of salads such as new potatoes, peas and asparagus with mint, or bulgur wheat, chickpea and feta to name a few. There are usually 10 salads to chose from to make a salad plate, ciabattas, flatbreads and specials such as pulled lamb platter with dips and salads or home made burger with mint relish and sweet potatoes.
I always order the tart when I go to Earthy, as I have a slight quiche addiction. You get one portion of salad for free with your tart, which is plenty to fill you up. Our choices were beetroot, feta and hazelnut and bacon, roasted pepper and goat cheese. They were both excellent and went very well with our Fentiman's ginger beers and free water.
Coffee and tea selection is extensive and it would be rude not to have one of the amazing cakes to go with your lunch so a carrot cake and a chocolate and nut brownie appeared essential. Later we did a spot of veg shopping in the upstairs shop, got a loaf of bread and set off home inspired to create something just as good for tea! Until next week Earthy!
Events at Earthy this summer feature the new Junk and Funk Sunday Market where you can take a table for £12 and sell your bric a brac, artwork, creations and inventions. Junk and funk will be open to the public from 10.30am-4.30pm.
Earthy – more info online by clicking here.
Causwayside Monday to Saturday 9-7 and Sunday 10-6
Canonmills as above plus restaurant Tuesday to Saturday from 6:30pm
Portobello Monday to Friday 9-6, Sat 9-5:30 and Sunday 10-4