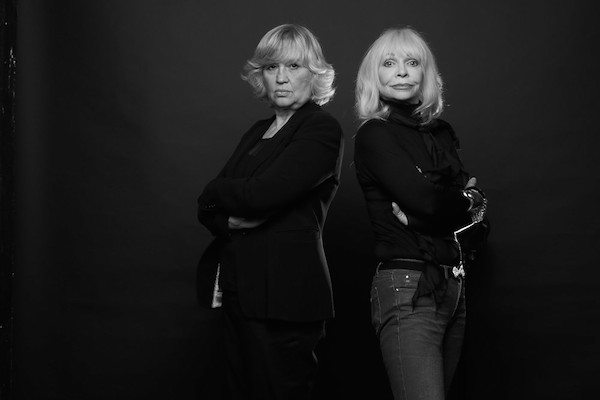 Promised as 'A highlight of this year's Fringe', this bittersweet comedy about failing memory, friendship and mimicking martyrs comes from Fringe First winning writer Philip Meeks,   and is co-produced and directed by award-winning writer/director Patrick Wilde. Stage and screen stars Susan Penhaligon (Bouquet of Barbed Wire) and Katy Manning (Doctor Who) play eccentric rival amateur theatricals manipulated by sinister care worker Gary into facing the traumatic past that ruined their once precious friendship. As they recall days gone by and hysterically settle their differences they soon start unearthing the startling secret – just who did play the greatest Saint Joan of all?
Katy Manning rocketed to fame as Josephine Grant in Dr Who alongside Jon Pertwee as the Doctor, returning some forty years on as Jo Grant in the new series The Sarah Jane Adventures opposite Matt Smith's Doctor.
Between the two her career has spanned television, film and theatre across three countries. Susan Penhaligon played Frank Finlay's spoilt daughter Prue in the hugely successful A Bouquet of Barbed Wire, Lucy in the BBC adaptation of Dracula and Judi Dench's sister Helen in four series of the award winning sitcom A Fine Romance. She has also appeared most recently in the regular role of Jean Hope in Emmerdale.
Philip Meeks' sell out Edinburgh Festival Fringe play Kiss Me Honey, Honey! won a Fringe First at the Edinburgh Fringe in 2013 before commencing on a successful tour of Scotland. Edith in the Dark, inspired by the ghost stories of E Nesbit, was a critical and audience hit at Harrogate Theatre last Christmas, where it was the first play to be commissioned for over twenty years. The hit play Murder, Margaret and Me about Margaret Rutherford and Agatha Christie completed a national tour during 2013 culminating in a brief West End season at the Ambassadors Theatre.
In 1993 Patrick Wilde's What's Wrong With Angry? transferred from BAC to the West End and subsequently became the award winning film Get Real, for which Patrick also wrote the screenplay. In 2006 he and Sir Tim Rice collaborated and revamped Blondeland with Patrick directing the first professional production of it for over twenty years at The Pleasance in London. In 2007 there followed the controversial, award winning Failed States at the Edinburgh Festival, and in summer 2009 Patrick was asked by the BBC to direct Scott Mills: The Musical at The Pleasance
KEEPING UP WITH THE JOANS: GREENWICH THEATRE AND PATRICK WILDE
VENUE: PLEASANCE COURTYARD |PLEASANCE BEYOND|60 PLEASANCE, EH8 9TJ 
31st JULY – 24th AUGUST 2014 @ 14.30 (90 MINS)