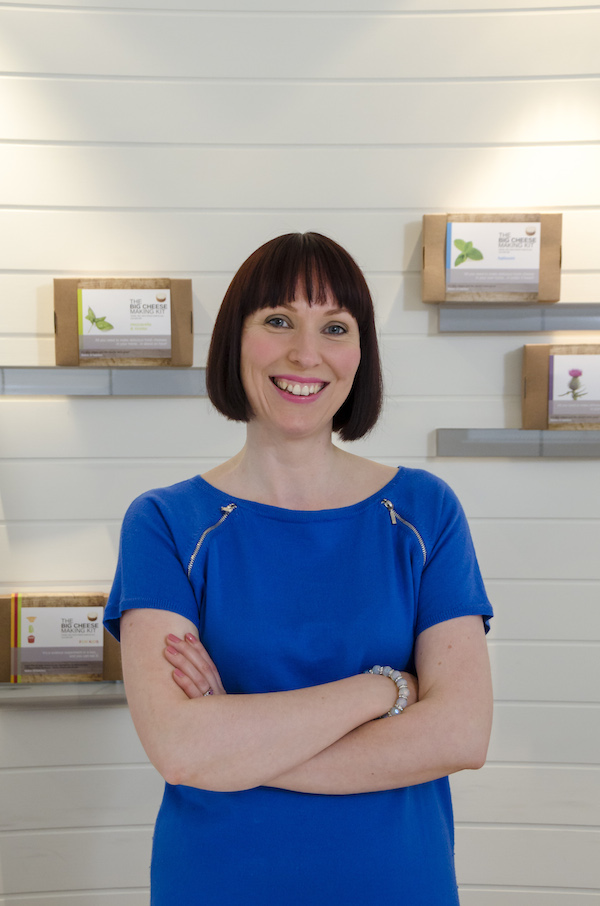 The Big Cheese Making Kit Founder Ailsa Proverbs Awarded MBE for Services to the Food Industry. 
A graduate of Stevenson College, food entrepreneur Ailsa Proverbs has been awarded an MBE for services to the food industry in the Queen's 2014 Birthday Honours List published today.
Ailsa (37) is the founder of award winning gift food brand The Big Cheese Making Kit, a company she founded in 2012. Just 18 months after launching, Big Cheese Making Kits which contain everything needed to make fresh mozzarella, ricotta, goat's cheese, Scottish Crowdie or halloumi by simply adding milk, can be found in Harrods, Selfridge's and around 200 independent retailers in the UK. The company is exporting to South Africa, The Netherlands and Denmark and was recently awarded Scottish Edge funding and SDI funding to boost its international business.
Her parents Reverend Irene Gillespie and the late Duncan Gillespie, a journalist and author, lived in Stirling when  Ailsa was born. She attended Menstrie Primary School, Alva Academy and Kingussie High School before graduating from Stirling University with a BA Applied Social Science and Philosophy. She also has a diploma in marketing from Stevenson College, now Edinburgh College, and enjoyed 13 years in sales and marketing management working with Scottish Screen, Scottish Business in the Community and ProjectScotland among others.
Ailsa's move to self-employment was inspired by watching TV chef Hugh Fearnley-Whittingstall demonstrating yoghurt making techniques and wondering whether it might be possible to do the same with cheese.
Commenting on her award Ailsa said:- "I am amazed to have received such a great honour which also recognises the contribution the food and drink industry makes to the UK economy and culture. The purpose of the company is to demystify the cheese making process so that anyone can make fresh cheese easily at home and it caught on almost immediately among foodies and as a quality gift. There is a huge market outside of the UK and I am very ambitious for the future."
Ailsa lives in East Lothian with husband Sean and two young children Duncan and Fia.