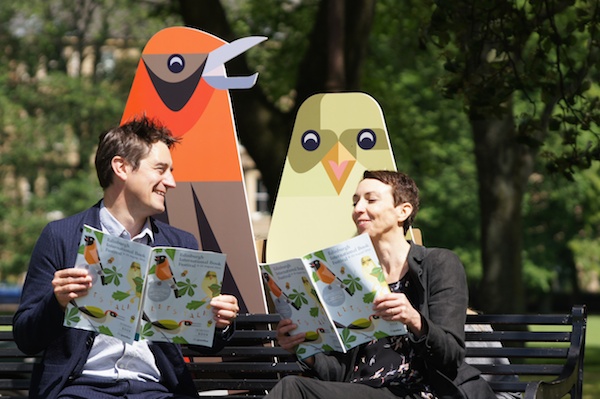 The official programme for this year's Edinburgh International Book Festival 2014 was launched this morning. Almost trumped by JK Rowling's announcement of her support for the No camp in the Independence Referendum, but at any rate very important for the legions of book festival fans.
Whether it's exploring the disappearing art of letter writing and the power of the spoken word, or listening to those who hear inner voices or participating in a series of dialogues on the future of Scotland, the Edinburgh International Book Festival examines all aspects of communication this summer.  Under the headline 'Let's Talk' the Book Festival welcomes internationally-renowned writers and thinkers from around the world to Charlotte Square Gardens to discuss such diverse topics as the two world wars, the Commonwealth, Economic Migration, Society, Identity, Culture and the Media.
Haruki Murakami makes his first trip to Edinburgh to launch the English edition of his latest novel Colorless Tsukuru Tazaki and His Years of Pilgrimage (which sold a million copies in Japan in the first week of publication).  Martin Amis also makes his debut in Charlotte Square Gardens to launch his new novel The Zone of Interest.  Will Self, Amy Bloom, Sarah Waters, Alan Warner, Esther Freud, John Lanchester and Nicholas Parsons will also launch brand new books at the Festival.
Former Archbishop of Canterbury Dr Rowan Williams previews a new collection of his poetry, Tom Pow and Simon Armitage also introduce new collections, and will be joined in the programme by the former US Poet Laureate Billy Collins, the UK Poet Laureate Carol Ann Duffy and the US War Poet Brian Turner.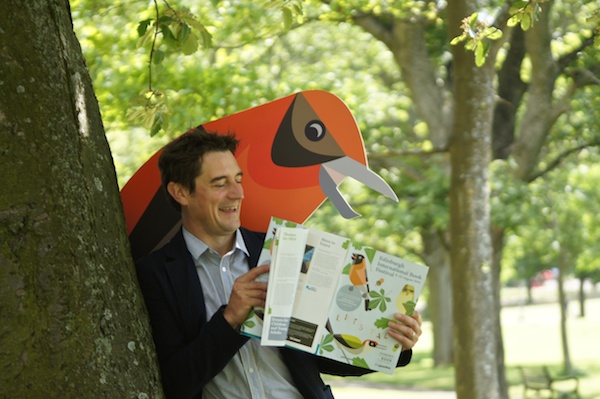 Other best-selling authors making their debut at the Book Festival include George R R Martin and Diana Gabaldon.  The South African literary heavyweights Damon Galgut and Zakes Mda will be joined by Mpho Tutu, Michel Laub from Brazil and Germany's Julia Franck.    Some familiar faces making a welcome return include Bonnie Greer, Graham Swift, Jung Chang, Margaret Drabble, Richard Dawkins, Max Hastings and Lydia Davis who makes her first visit to the UK since winning the Man Booker International Prize.
Richard Sennett, Ali Smith, Raja Shehadeh and Lauren Child have been invited to select and chair a series of events on Turning Points for Civilisation, the power of words, the Middle East and creating believable worlds in children's literature respectively.   Kate Adie delivers the annual Frederick Hood Memorial Lecture, Patrick Ness delivers The Siobhan Dowd Trust Memorial Lecture, and the winners of the James Tait Black Prize and the Edwin Morgan Poetry Award are revealed.
A series of evening debates, or Dialogues, will invite wide-ranging discussions on topics including The Union and the implications of the referendum vote for the rest of the UK; Surveillance and The Self where Luke Harding, author of The Snowden Files, is joined by Josh Cohen, author of The Private Life:  Why We Remain in the Dark; Energy, where Professor Susan Deacon and Richard Dixon lead a conversation on fracking; and Ageing, in which Paul Johnson and Professor Lynne Segal ask if we can afford to grow old.
From inner monologues and imaginary friends to the demanding character voices that a novelist creates, and from people who believe the voice they hear is an epiphany to those whose lives are taken over by multiple voices inhabiting their consciousness, voice hearers will be the focus of a strand of events entitled Conversations with Ourselves.  Working with Durham University's Hearing the Voice project and with the support of the Wellcome Trust, authors and scientists will join forces to take a closer look at the medical, historical, spiritual, anthropological and literary aspects of voice hearers in a series of talks and workshops.
An eclectic range of voices can be heard in Charlotte Square Gardens from Britain's cutting edge Spoken Word scene. The Babble On series of events, staged in partnership with performance poet Luke Wright and produced by Becky Fincham, features Phill Jupitus as Porky the Poet, Elvis McGonagall, Hollie McNish and Hannah Silva, interactive theatre makers Hannah Jane Walker and Chris Thorpe and poets William Letford and Rachel McCrum amongst others.
Events in the Scotland's Future strand invite leading writers and thinkers from a variety of political perspectives to sketch out their vision of Scotland after the referendum.  The Book Festival will provide a neutral forum to facilitate broad, open-minded dialogue between authors and audience members who are keen to look forward, past the immediate politics of the vote, and envisage the shape of things to come.  Participants in the Scotland's Future series of events who will be looking at issues such as the arts, economy, immigration, democracy and the future of Europe include Linda Colley, Iain Macwhirter, James Robertson, Lesley Riddoch, Tom Devine and Henry McLeish.
The spirit of dialogue continues in an exciting new collaboration with multi award-winning Scottish theatre company Grid Iron.  The Book Festival has commissioned four internationally acclaimed writers, Kei Miller, Chimamanda Ngozi Adichie, Kamila Shamsie and Christos Tsiolkas, to produce brand new pieces of short fiction, inviting them to reflect on the themes of identity and home in the form of letters. These letters have been adapted into a promenade theatre production, Letters Home, which is supported by the Scottish Government's Edinburgh Festivals Expo Fund and is part of the Glasgow 2014 Cultural Programme.
The Book Festival continues to champion emerging talent and this summer 46 authors are eligible for the Festival's First Book Award.  Amongst some familiar names introducing their first novels, including Kirsty Wark and James Naughtie are lesser known names, best-selling authors in their own countries and languages who are bringing the first English translation of their work including Austria's Clemens J Setz, Brazil's Daniel Galera and Kuwait's Mai Al-Nakib.  Readers and Book Festival audiences can vote for their favourite online atwww.edbookfest.co.uk and at the Festival, and the winner will be announced in October.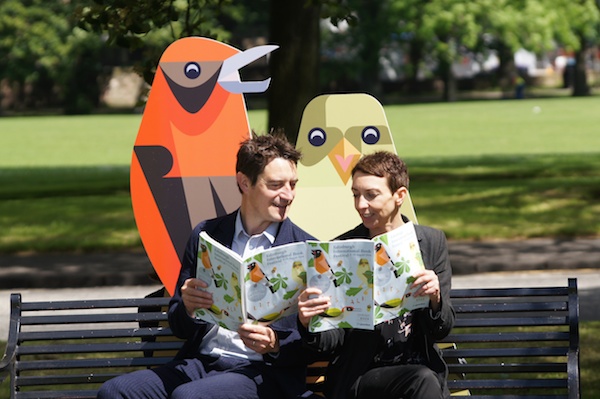 The Baillie Gifford Children's Programme celebrates stories in many forms – in music, song, poetry and illustration.  Best-selling, established names, including Children's Laureate Malorie Blackman, Julia Donaldson, Patrick Ness, Kristina Stephenson, Darren Shan and Cathy Cassidy sit alongside exciting, emerging talent including Mackenzie Crook, Steven Camden and Sally Green.  Children of all ages can enjoy stories from many vibrant nations, including Ethiopia, Australia, New Zealand, Canada and Ireland, on a wealth of subjects from Vikings to WWI, witches to fairies and robots to spacemen.
The Edinburgh International Book Festival welcomes over 900 participants from 47 different countries to Charlotte Square Gardens this summer, and runs from Saturday 9 to Monday 25 August 2014.  Full details of the programme can be found at www.edbookfest.co.uk.  Tickets to all events go on sale on Tuesday 24 June 2014 online at www.edbookfest.co.uk, by phone on 0845 373 5888 or in person at the Box Office at the Roxburghe Hotel on George Street (on Tuesday 24 June only, thereafter at The Hub, Castlehill).