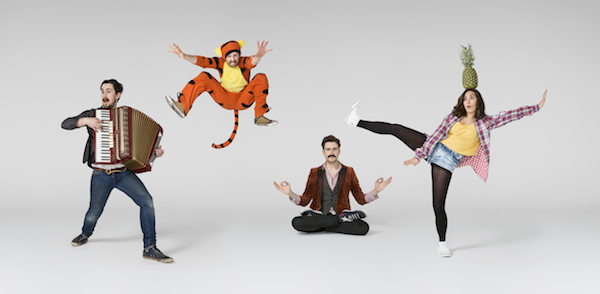 BattleActs will return for their 5th consecutive Edinburgh Fringe at the Laughing Horse Free Festival. Having built a reputation for outstanding improv, awards, rave reviews and a hardcore cult following around the UK BattleActs are bringing their award-winning, multi-five-star late-night comedy party to the Laughing Horse for free.
The show sees two teams of fearless improvisers pitched against each other by a ball-busting compere. Each team attempts to prove their worth and battle it out for the ultimate prize: the audience's respect!
Facing a terrifying voting system, a high-octane mix of seemingly impossible challenges and incredible physicality the teams battle against invisible giants, improvised Shakespeare and the limits of physical pain. No two shows are the same, with forfeits, (which can see you dancing on live mouse traps) and themed nights to keep everyone on their toes!
BattleActs were awarded the StageWon Editor's Award in 2012, were recommended by the Independent on Sunday as part of their weekly "Top 10 Comedy Acts in the UK," TimeOut Critic's Choice and Spiked Online claimed BattleActs were 2013's "Best Free Show"
BattleActs have previously performed at the Comedy Store, London Zoo, the Camden Roundhouse. They recently performed at the Vault Festival in London's Waterloo – selling out the entire run of 500 tickets before their opening night.
BattleActs: 22:00 (Duration: 60 mins), 2nd – 24th August (not Mondays) 
Laughing Horse Maggie's Chamber @ The Free Sisters, Cowgate.