SOOR PLOOMS AND SAIR KNEES – AN EXHIBITION OF THE WORK OF BOB DEWAR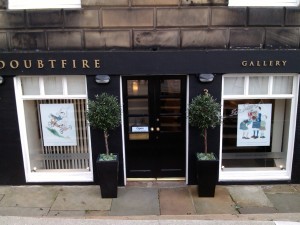 For anyone who grew up in 1940s small town Scotland, Bob Dewar's new exhibition at the Doubtfire Gallery will be a real treat. For someone like me, who grew up in suburban London some years later, it is still an absolute delight.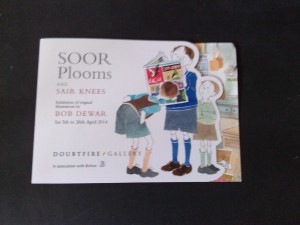 Dewar is a highly successful illustrator and cartoonist (and husband of the writer, Isla Dewar); he's drawn for the Scottish Field, the OUP, the Scotsman and Birlinn Books, but this is his first ever exhibition. His pictures are witty, nostalgic and beautifully drawn, and remind us of everything from the rag & bone man to wet and windy caravan holidays in Largs.
It's all there – the extended family huddled round the brand new black and white TV set (when did your family last watch one TV en masse?), the coalman, the chimney sweep, the comics, the sweetshops – I guarantee that cries of 'I remember that!' will echo forth from anyone over 40, because for many years things just did not change. The gallery owner has even kindly provided a bowl of soor plums.
'Soor Plooms and Sair Knees' is on at the Doubtfire Gallery, 3 South East Circus Place, Edinburgh until 26th April, and is open Monday to Saturday 10-5
Submitted by Rosemary Kaye